Today we find several OS that power different devices. Gone are the days where Windows powers almost all tabs and laptops. These days we have seen how Android OS evolved through time and deliver positive results for users. But mostly these devices are either a tab or smartphone. But the folks at Jide tried something to spice up the Android OS. They redesigned the system to deliver and look like a standard desktop operating system with a taskbar and support for viewing multiple windows. They called it Remix OS.
But this OS was first introduced with the company's own system. But recently, one prominent player in PC market has been eyeing to join the Remix bandwagon. Acer is planning to deliver Remix powered laptop to China soon.
The laptop will be another version of Acer Aspire ES1-131. This notebook ships with Windows 10 software.  The new version will feature Jide's custom version of Android optimized to perform and feel more like a desktop operating system.
If all the spec will be carried over we can expect that the Remix version of Aspire ES1-131 will feature an 11.6 inch, 1366 x 768 pixel display with an Intel Celeron N3150 quad-core Braswell processor. It should also sport a 4GB of RAM with 500GB hard drive for storage. It should also come with Gigabit Ethernet, 802.11b/g/n WiFi, and Bluetooth 4.0.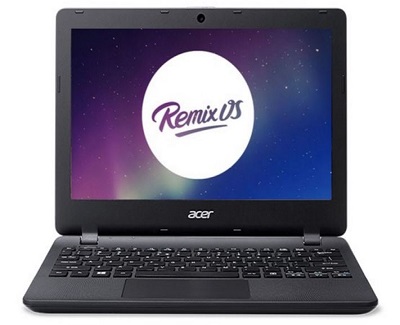 The planned laptop is described by Jide as a "concept laptop" that "will be released on a limited basis" initially in China. This move could only be a test as on how market will receive the said system. But if results become positive, this machine might also be made available for other markets.
By the way this is the first device with an Intel processor to feature Remix OS, and according to Jide, it has optimized the operating system to run seamlessly alongside with the hardware. Other than that, this could also be an assurance that the free Remix OS will run with flying colors with other PCs out there.