Some people love having good display when watching movies. Some like a little push when doing some hardcore gaming. But then, these things can mean higher price tag for your laptop. Thus, for most folks out there, a computer that offers just the right amount of performance coupled with a good price is an overwhelming choice. This is the kind of offering that Asus F555LA-AB31 is presenting. It's a decent looking machine, but is it worth the money?
Design
As with any ASUS machine these days, the Asus F555LA-AB31 comes with a decent looking exterior. Actually, this machine looks more premium than what you would expect from its price tag. The overall construction sports plain black plastic. ASUS did add some spice with the design through its smoky brown lid graced with Asus' logo together with its signature concentric circles. The overall effect looks handsome, especially under bright light. Upon opening the lid you'll be greeted by its silver deck.  The palm rest has a touch of faux brushed metal texture which did up the overall vibe to the laptop.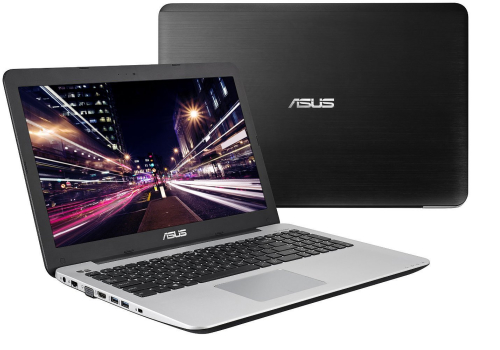 Also, the interior will greet you with its black Chiclet keyboard with Numpad, a rarity in this price range.  It's not backlit but offers a good feel when you use them, it feels tactile and offers decent feedback as well.  This machine features a 15.6-inch display surrounded by its black bezel. This screen is good enough for up to 1920*1080 of resolution. Dimension-wise, this laptop measures 15 x 10.1 x 1 inches. And weighing 4.6 pounds, this Asus is quite portable and will surely require minimal space whenever you carry it.
Performance
Asus F555LA-AB31 was designed to be an everyday buddy. It means it was intended to perform tasks related to office and home chores, think about Asus F555LA-AB31 was designed to be an everyday buddy. It means it was intended to perform tasks related to office and home chores, think about Word and Excel kind of things. But it doesn't mean it cannot take some beating. One important aspect of a decent performing machine is a good processor. While some computers in this price range offer lower spec alternatives, to cut costs understandably, Asus did use i3-5010U Processor for the purpose.
It is clocked at 2.1 GHz resulting in decent overall speed. What this meant is that this laptop can handle multitasking perfectly. RAM space is not that stellar with only 4GB of space. But the thing is, it's actually well matched for its Windows 10 OS. Opening multiple tabs in Chrome while doing some Excel sheets did not show any problems. Well, this is partly due to Windows 10 making the most out of the hardware available. Storage is done by its 500GB Hard Drive operating at 5400RPM. Yes, the storage is not as smooth or as fast as SSDs but ticks most of the boxes most users have in mind.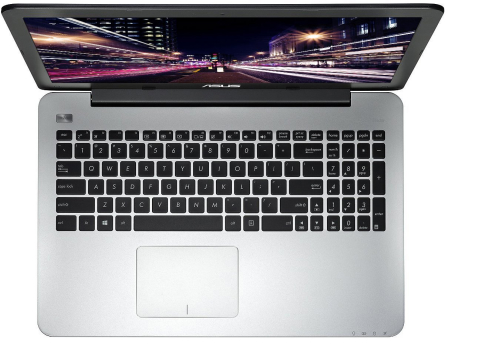 The HDD runs quietly and the access-fetch cycle goes smooth, there are very minimal instances where you will feel the system finds it hard to access a file. Also, this laptop has an optical drive if you need it. Graphics duties are through its integrated Intel HD 5500 GPU. This results in vibrant colors for your videos and some light games, just don't expect to do some very serious video editing with this machine and you're all set.
Connectivity options come in the form of 2 USB 3.0 ports, 1 USB 2.0 port, HDMI out port, a VGA port for external displays, audio jacks, Ethernet, Wi-Fi, and a 3-in-1 card reader. Also worth noting, the F555LA-AB31 comes with 802.11ac wireless which is up to three times faster than old 802.11bgn standard. It as well has Gigabit Ethernet with RJ-45 connector and Bluetooth 4.0.
Superb speakers
If you really want to stand out from the crowd, you have to spice some aspect of your machine. ASUS did such by adding very capable speaker system. While this is not a gaming laptop, having a good set would still help improve the overall vibe and experience with the laptop. ASUS' did not just put in a nice set of SonicMaster speakers to F555LA, they also added ICEpower AudioWizard. This hardware-software tandem filter out unnecessary noise which ensures only the best comes out of the speakers.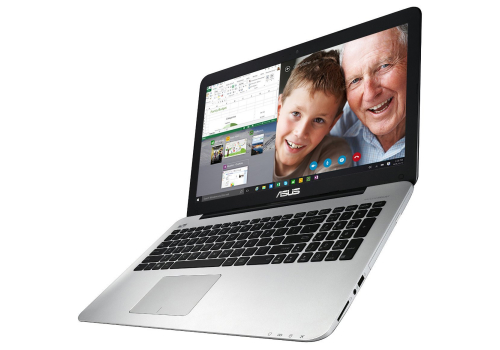 The clarity starts from its good bass. It's not very powerful but it gives off the right amount just to fill the whole room without overwhelming the highs and mids. Oftentimes the middle tones are the ones given more emphasis in laptops, this approach results to poor quality sounds that are bland, to say the least. The default setting comes with AudioWizard set to Music Mode.
This setting is good enough for everyday use and you should simply leave it that way. Alternatively, there's an available Realtek's software which enables more fine-tuning for people who wanted more control for their sound settings. But you can only maximize the Realtek software if you use a good headset, otherwise, Audiowizards works perfectly with its built-in speakers.
The verdict
These days, computers have a huge impact in our daily lives. We make use of computers from doing office works to managing our accounts, online and offline. And it does not end there, computers are good entertainment system as well. From watching movies to playing games, it really offers a lot of things in a single package. And while it's a good thing to have something that can do all things in one, one must also weigh its priorities. And for those people who wanted to meet just the day-to-day requirements, Asus F555LA-AB31 will perfectly tick all the boxes on their list. Coupled with a very competitive price, this laptop has a great value for your money.
Check out what other have to say about Asus F555LA-AB31