Today we have the awesome and powerful ASUS G751JY Republic of Gamers extreme gaming laptop on our microscope.  Packed with some of the latest and greatest technology including a Maxwell GPU, the ASUS G751JY steps up to the plate to lay waste to its competitors but is it everything that it is cracked up to be? This model comes with an Intel i7 4710HQ, 24 gigabytes of RAM, a one terabyte HDD, along with 2 128 gigabyte SSD's in a RAID configuration, a 1920 by 1080 IPS panel and most of all the extremely powerful GTX 980M. Again, let's start with the design.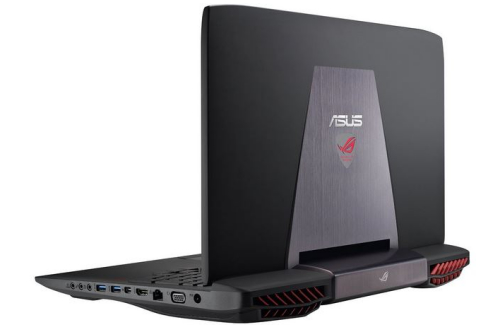 Design
This laptop is definitely some eye candy to look at. Modeled after the F-22 Raptor (we know you love that!), it puts off an intimidating image. Letting those around you know that you are serious about your hardware. The vents on the rear make for a mouth-watering visual that no laptop we have ever seen has even come close to. Though it is enormous, coming in at 17. 3 inches for a whopping 8.4 pounds of pure performance. The sides consist of your standard laptop connections like USB ports and the like.  But nicely thrown in is an HDMI out so you can plug it up to full performance gaming monitor.
Also packed inside is a Blu-ray player, which we're sure you movie lovers will greatly appreciate. They also have speakers of course, which creates a pretty good sound but not something to be jumping off your feet about. It is a bit lacking in presence if you get what I mean but maybe to help with that they did throw in a sub-woofer.  But that in itself is largely unimpressive and it does make the sound feel a little bit one-sided. Before we do forget to mention the bottom is awesome and it is perfectly comfortable for long lap time gaming.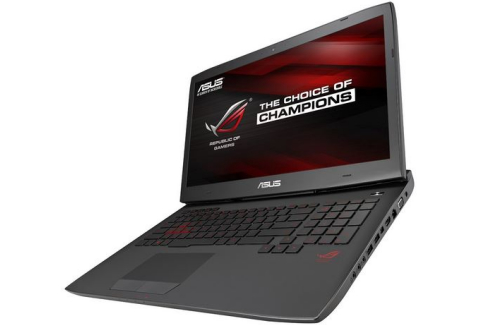 Now in the middle of all this design is the flashy red backlit keyboard with some macro keys including a steam button and record button. Which definitely helps to capture those epic moments in game. We for one were in love with the keyboard. It feels and it types like a keyboard that you would pay many dollars for. The backlight could have been a bit brighter or at least a bit more distinct between the three brightness settings. Now the touchpad is great once you do realize that gestures are just completely useless and you do disable them.  Then you find a really good and responsive touch pad. One of the best we've ever seen, some money was definitely put into this one.
Now for the display which is an IPS 1920 x 1080 panel with fantastic color accuracy. Finally a gaming PC with great color reproduction. Something that we have been really clamoring for. The colors really pop even under that matte screen finish. Also 75 hertz is a nice yet modest boost from 60 Hertz. Definitely no complaints here though. Everyone will love anything and everything that is displayed on this monitor.
Performance
Now for performance the 4710HQ has been out for a while now and it is definitely overkill for a gaming PC. But it does give you that freedom to render and edit videos or even livestream your gameplay if you do feel like it. 24 gigabytes of RAM!!! When will you ever use that in-game?!  Most games barely use 8.  But it will sure help in editing, gameplays. Gameplay benchmarks videos can render in under one minute. Now, the SSD's possess some really good speed. Anyways, we know what you are all probably here for and that is for how this thing does in gaming. A desktop-like performance and you can put it in your backpack. Got the idea?! This thing takes on Lara Crofts extremely performance crushing Tress FX hair and laughs about it at fully maxed out settings.  It is really indeed impressive. This laptop will handle all the latest games on at least high settings and you can be sure of that.

Final Words
So all in all it's time for our verdict on this beast, we mean it is most certainly everything it is cracked up to be.  But your wallet is going to be empty for a while with its high price tag. It is definitely a chunk of money to drop on a computer but we do think that this specific model is worth it. You can even go with a cheaper model because the selling point here is the GTX 980M. If an IPS panel is not something that is important to you then there are many other options that may better fit your budget. But in the end we think that ASUS G751JY is a fantastic gaming PC. Many people will enjoy countless hours with this machine and won't regret that purchase.