Laptop + Tablet + Mobile Phone = ASUS Transformer Book V
We are coming to the age in which gadgets and devices are not only to be use in a single purpose. Each year experts try to come up with something that will make life easier for us. This year ASUS might have found one.
ASUS announced a device which combines the power of laptop, convenience of tablet  and mobility of mobile phone in what they are referring to as the "world's first". The  laptop and detachable tablet runs both in Android and Windows operating systems.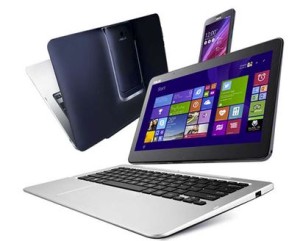 Jonney Shih chief of ASUS demonstrate this one of a kind device in front of media, industry leaders and experts from all various parts of the world. He said:
In each of the modes, we offer an uncompromised experience, no matter whether for communication, productivity or entertainment.