One of the known brands for laptops, ACER, has been very good in targeting wide array of user in their pricing. You can choose from the very basic systems to the complex ones intended for heavy users such as gamers. But then it could be confusing looking through the progress of technology. Of course, no buyer could easily go running after technology. What you can do is to know best matched system for your needs. And for Acer fans, take a pick of your best acer laptop from this list.
Best Acer Laptops
Acer Aspire V5-531P-4129
There are things that really matters for each user. These are unique to each user thus choices often vary. After weighing you prioritize though, you may want a balance at all your needs as there can never be a perfect solution. Aspire V5-531P-4129 is one that belongs to that "safe" choice. It has enough processing prowess through dual core 1.5 GHz, enough for mobile computing. 4 GB worth of RAM is backed by Intel® HD Graphics with 128MB of dedicated system memory. What really is astonishing is the slim profile at measly .96 inches weighing 5.51 pounds. And even better is the inclusion of 8X DVD-Super Multi Double-Layer Drive. This is a little uncommon for laptop this thin. Storage is at 500 GB. Widescreen, touch-sensitive, display is standard, LED backlit for that matter. It has 4-cell battery which could run up to 5 hours before it runs out of charge. Factory installed with Windows 8.

Acer Aspire V3-731-4649
This system is powered by Intel Pentium B960 2.2 GHz with 2 MB Cache. 4 GB main memory makes multi-tasking a breeze as it is coupled with Intel® HD Graphics with 128MB of dedicated system memory. Storage is rated at 500 GB, enough for mobile needs. Huge screen at 17.3 inches is enough for movie marathons and presentation, although this may limit mobility in some instances. Paired to Optimized Dolby® Home Theater® v4 audio enhancement through 2 speaker system, you will never miss your home entertainment system. The battery has enough juice for 4 hours of continuous use. Priced very competitively, this could be you ultimate all-rounder. Windows 8 is standard.

Acer Aspire V3-772G-9829
There are users that really wanted more out of mobile computing. The next aspirant for title best Acer laptop answers this needs through high-powered mobility solutions as well. One good example is Acer Aspire V3-772G-9829. This system packed more than enough for mobile computing needs. i7 processor handles the processing needs. Backed by NVIDIA GeForce GT 750M Graphics with 4 GB of dedicated VRAM, you can expect blazing speed from it. Main memory is at 8 GB with the hard drive rated at 1 TB. Huge 17.3" display will certainly entertain your visual senses effectively. Bluetooth, Wi-Fi connectivity, USB 3.0 among others comes standard as well. But then as power and performance is the main thing for this system, the 6-cell battery will only last for a measly 2.5 hours of continuous use.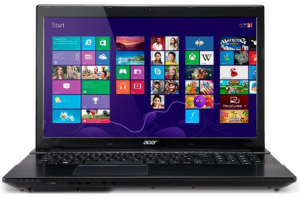 Acer 11.6″ AO725-0687
When you really wanted mobility, then size does matter most.  This is where Acer 11.6″ AO725-0687 will fit. Though not a full sized laptop, this netbook is an amazing tool for anyone who wanted power without the size handicap. It is powered by AMD Dual-Core C-70 accelerated processor AMD. This is paired to 2 GB DDR3 SDRAM and 320 GB hard drive. This trio is perfect for balanced power management and performance. Graphics is done through ATI Radeon HD 6290 with up to 256MB of dedicated system memory. It may not be the latest model but it's certainly packed with good qualities. Built-in webcam,5-in-1 memory card reader, 1  USB 3.0 port, 2 USB 2.0 ports, headphone/speaker/line-out jack,  microphone-in jack, RJ-45 Ethernet port, VGA port, HDMI port comes as standard as well. It's pre-installed with Windows 8 from the factory.

And our choice for best acer laptop is…
Acer Aspire V3-772G-9822
With the advent of modern software and gaming, processing needs have gone overboard, making the boundaries of mobile computing and desktops vague. Take for instance Aspire V3-772G-9822. This notebook is not really a notebook, it is a mobile gaming desktop. Powered by 4th generation Intel Core i7-4702MQ 2.2 GHz with 6 MB Cache, processing could be seamless. Couple that with NVIDIA GeForce GTX 760M with 2 GB dedicated VRAM. Main memory task is handled by 12 GB worth of space. But of course, storage is as important as performance thus it uses 1TB 5400RPM SATA Hard Drive with Dual Hard Drive Support. Standard USB 3.0, Wi-Fi, DVD multidisc drive, among others, comes with it. Though priced a little higher than common system, it is well compensated by the performance that you'll get.