Chrome OS and Android to merge by 2017?
GOOGLE could be in the process of merging its two operating systems, combining Android with its stagnating Chrome OS to become one unified interface ready to roll out in 2017. According to The Wall Street Journal, sources familiar with the matter believe that Google's plan is a reaction to the growing dominance of mobile computing. It's been said that Google has been working on combining its two operating systems for the past two years and, while it won't allegedly come to market until 2017, we could see our first glimpse of it as early as 2016.
Sources say that Google's Chromebooks will be given a new, as yet undetermined, name, and will have the added benefit of being able to access the Google Play Store's vast app catalogue. This isn't the end of Chrome, though. As a web browser, Google is keen to keep it running, ensuring its dominance continues across the world. Chrome OS will also stay afloat, but only as an open-source OS for other manufacturers to use on their laptops.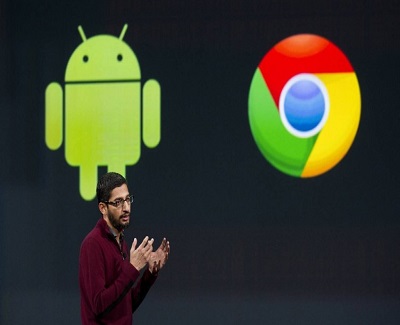 Meanwhile, Google's focus is firmly on turning Android into a laptop and desktop OS. Google is remaining tight-lipped about the issue, as a Google spokesperson confirmed to The Verge that Chrome OS is not being 'killed', despite the publication corroborating the initial reports with its own sources. Chrome OS senior vice-president Hiroshi Lockheimer also took to Twitter, saying, "There's a ton of momentum for Chromebooks and we are very committed to Chrome OS". It's worth remembering that reports of both operating systems merging have persisted for quite some time, and Google really hasn't helped the situation.
We've seen Android expand outwards into smartwatches, cars and TVs and even Google's hybrid tablet device, the Pixel C, which runs completely on Android despite its laptop-like intentions. Chromebooks won't be going away any time soon, but it's clear that Google has its computer ambitions firmly focused on Android.