Some people prefer a huge gaming machine to offer better viewing. But there are some that wanted a balance between mobility and power. And this time, Gigabyte made a truly compact gaming laptop. Gigabyte's latest addition to its family is called the Aero 14. It's a notebook that sports a compact 14 inch, high-resolution display. It is powered by an Intel Skylake processor, it has NVIDIA graphics, and it can support up to 32GB of RAM and it comes with light and compact design.
But if you think about it, all these hardware could easily drain the battery very quick.  And for that, Gigabyte Aero 14 comes with a very nice icing above, it has a massive 94.24 Wh battery.  And to start with, this laptop is about 0.78 inches thick and weighs about around 4.2 pounds.
Also, the Aero 14 has a 14 inch screen with 2560 x 1550 pixel sporting IPS technology. It comes with an Intel Core i7-6700HQ processor, of course. For the graphics, you may have an NVIDIA GeForce GTX 965M or GTX 970M graphics option. RAM space comes in 8GB or 16GB option all featuring a DDR4 2133 tech with support for up to 32GB through its 2 SODIMM slots.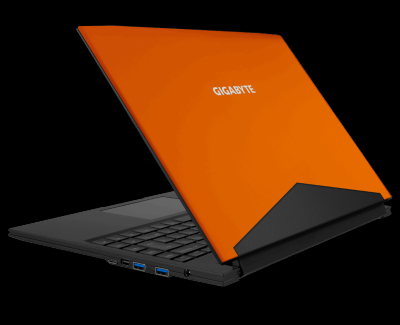 It as well comes with 2 M.2 SSD slots. It has 3 USB 3.0 type-A port and 1 USB 3.1 type-C port. It also covers the basics like HDMI 2.0, mini DisplayPort, and headphone jack. Connectivity features comes in the form of 802.11ac WiFi and Bluetooth 4.1.
For your night shift, this machine comes with auto-adjusting backlit keyboard with individual macro keys for better gaming experience. And with the absence of Ethernet port, this machine supports for an optional USB-to-LAN adapter. Unfortunately, pricing is yet unavailable.