Predator 17 X: Acer's VR Gaming Laptop
The world virtual reality is becoming more at reach for common folks. This technology is already available even with cellphones. And that's the thing that Acer wanted to offer for their customers. Just recently, the company added some powerful PCs to their arsenal of very competitive machines.
This said line of machines is Acer's Predator. The recent addition comes in the form of a laptop and a desktop computer. The crowning glory of these machines is 'Nvidia GeForce VR Ready' sticker. These machines were intended for intense graphics performance like that of a gaming environment. These systems were certified to have support for VR headsets including the like Oculus Rift and HTC Vive. These are among the most powerful systems that Acer has ever built but interestingly, it comes with compact dimensions. Now let's check the specs.
The laptop is the Acer Predator 17 X. The 17X comes with a 17-inch gaming screen. And to conquer the VR and gaming scene, on one hand, the screen can work through a 1920x1080pixel Full HD panel to support relatively low res making it easier to push faster frame rates when involved with 3D gaming. On the other hand, if you wished for more details you can opt for its 3840×2160 pixel of Ultra HD panel that has plenty of details while sacrificing a little bit performance making the system work harder for long period of gaming sessions. It can support up to 32GB of RAM with DDR4 technology clocked at 2133MHz. It has a desktop-grade Nvidia GeForce GTX 980 too. This is coupled with Intel's overclockable i7-6820HK CPU that Acer claims to achieve turbo speeds of up to 4GHz.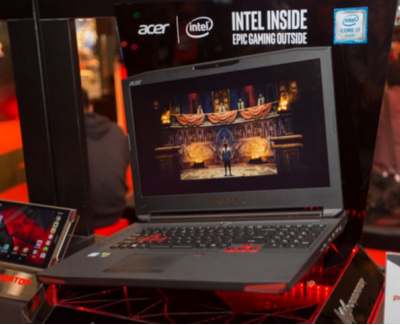 The desktop version is called the Predator G1. This desktop PC supports Intel's newest and most powerful sixth-gen Core i7 processors. This is then matched with full size Nvidia graphics with support for up to 64GB of DDR4 RAM. It will come with either a 3.5-inch hard drive or solid state drive. That's good enough for up to 4TB and 512GB worth of storage respectively. The system will come with matching mechanical keyboards, a wheeled carry case and other accessories with the pack of Predator-branded gaming gear that Acer will sell with the G1. Acer claims that this machine will support a "plug in a VR headset" and will bring you into the realms of virtual reality.