Acer Aspire E 15 E5-575G-76YK Review
Whenever you think about performance machines, Acer might be on the bottom of your list. Well, ASUS and MSI have already built a reputation over this genre thus making them first choice for this matter. But truth is, Acer also builds great machine that can handle heavy use like in gaming. The Acer Aspire E 15 E5-575G-76YK is one of such machines that deliver the right goods without breaking a bank. So you need further convincing? Here are some important aspects that will make you say yes to it.
Built with performance in mind
Equipped with a 6th Gen Intel Core i7 processor, this laptop can surely withstand the demands of heavy use.  Clocked at 2.5 GHz and reaching up to 3.1GHz Turbo Boost Technology, it can easily keep up with your wishes. This processor alone resulted to fast start-up and high-speed connectivity whenever you need it. It takes a little time turning on and more for your tasks.
This machine also comes with NVIDIA GeForce 940MX. This may not be the top of the line mobile GPU from NVIDIA but it's actually more than enough for the purpose. Also good to note that while this machine has 8GB RAM DDR4, it as well has a 2 GB of dedicated VRAM boasting DDR5 technology. At such, graphics needs are pretty much well covered. You can expect to play HD videos and games with lots of ease.
These days, wireless connectivity is pretty much what we use as it offers much convenience. But then, wired options are still preferred by some for stability and better speed. Thankfully though, this machine comes equipped with the latest 802.11ac wireless featuring MU-MIMO technology. This can achieve up to 3x faster performance. You need to have an 802.11ac MU-MIMO based router to maximize its full potential though. But when you do, it really feels different, especially when engaged with online games.
Convenient and Efficient
Most often, when you think about performance machines, you'll likely to associate it with power hungry systems. Fortunately these days, technology have matured and learned how to achieve good power management without sacrificing overall performance. This technology is present with the 6th gen i7 chip. This results to longer battery hours. And with the case of Aspire E15, it resulted up to 12-hour battery life. In a nutshell, it's a whole day of use without needing to recharge. And if you need to move, you'll be glad those wires won't get in your way.
Storage also plays a huge part in keeping up with time. As days pass, those tiny bits of will pile up that will consume your storage. This E15 comes with 256GB SSD. And yes, that doesn't sound to last for years these days. However, it's good to know that this Acer comes with a convenient compartment door that allows you to upgrade the Hard Drive, SSD and Memory with ease. A nifty trick and it works.
Also very important feature of E15 is the new USB Type-C port. This is a new standard of USB that provides ultra-fast data transfers. Also, it has higher power rating that enables quick device charging in the same port. Also, this port is reversible. Now, have you thought how many times you've actually tried to plug a USB device upside-down? With this standard, it works on both sides. Yes, this is a new technology and support for common devices is still on its way but it also means that this machine is quite future-proof.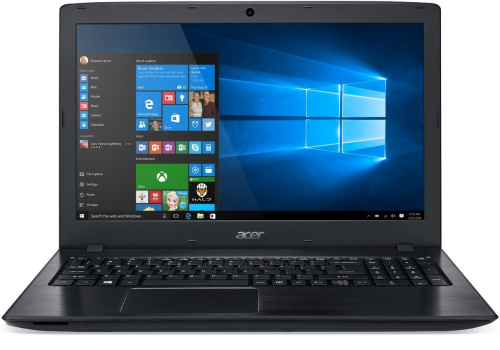 Learn what others have to say about Acer Aspire E 15 E5-575G-76YK 

Superb Display
Performance is nothing when not paired to the right display. The E15 has a large 15.6-inch Full HD ComfyView, LED-backlit LCD Display with a 16:9 widescreen aspect ratio. In short, it delivers an optimal viewing experience with great viewing angles. And if you've been around computers for some time, you know that it can take hours before you can get a task done. And when enjoying a game, the number of hours is always uncertain. And it pays to have setting so eye-strain can be minimized. The E15 has this Acer BluelightShield feature. This simply filters the blue light that the screen emits, lessening eye fatigue. Also, the screen sports Acer ExaColor technology that delivers vividly rich colors and provides sRGB-like display quality by tuning the color saturation. All of these results to a more color-rich experience while helping you cope with eye fatigue. Overall, color saturation is good, viewing space is well-above OK and the experience is great.
Great Audio
The thing about good audio is that, most often, even high-end laptops tend to ignore it. Well not this Acer, thankfully. The E15 comes with Acer's TrueHarmony technology. It promises to deliver lifelike and rich audio and it works. You can hear the right amount of bass with middle and high tones within just the right levels. This speaker was also designed to have minimal audio distortion. The end-result is a sound that's rich, easily filling the room with no problem. Acer also did some bonus with their TrueHarmony as it features custom equalizer so you can achieve the sound quality you wanted.
Other tiny bits that come with this E15 are Bluetooth 4.0 for added wireless connectivity option. It also has 1 USB 3.1 (Type C) port, 2 USB 3.0 ports; one of which feature a Power-off Charging, 1 USB 2.0 port and 1 HDMI port with HDCP support.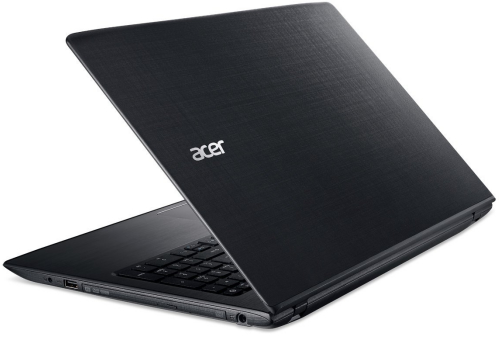 The Verdict
If you wanted a laptop that caters all you needs, Acer Aspire E 15 E5-575G-76YK  will get you covered. It has superb performance, a good display unit with modern technology like USB 3.0. It may not be the best looking choice out there but it will get the job done from your daily grind to some intense gaming you require.