5 Useful Tips to Consider When Choosing Your DJ Laptop Stand
At a party, the DJ is the one who makes it alive, but the days when they were relying on mixers and turn tables are long gone. Now, it's easier for them to animate a great party, by using a DJ laptop stand. Today, it's a lot easier to create extraordinary song mixes, just by using dedicated software.
For a DJ, it's not practical at all to come with a huge and heavy desktop computer at a party. It's quite hard to carry these around, especially for a DJ, who needs to be very mobile. So, a laptop is definitely the most suitable solution. But how do you use a laptop in a club? It's not recommended to just put it anywhere beside you, or next to the turn table. It's not cool and not practical at all. In such a situation, it is recommended to use a DJ laptop stand that is especially designed to sustain a laptop while pumping up a party with great music.
Also read: Best Laptops for DJ's
So, what is exactly the difference between a stand that is specifically designed for DJs and a regular one? Well, the ones for DJs are not the kind of stands that have a fan attached to them; they are simple in design, yet they are very practical. These stands are made of durable steel, so that they can provide a stable support for the laptop, while holding it up, above all the other tools and devices used by a DJ while mixing.  This provides an easier and more practical use of the laptop, because it is positioned accessibly, above the turn table and mixers, in order for the DJ to be able to conveniently make use of it without any hassle. The design of such a stand is also very innovative, so that it will allow the DJ to multitask and have easy access to the laptop as well as his or her other mixing devices. And last, but not least, if you're a DJ and you have a high end, great looking laptop, a stand will highlight it and make you look cool in front of the party people.
5 Useful Tips to Consider When Choosing Your Laptop Stand
A suitable stand: When it comes to choosing a DJ laptop stand, you have to consider the ones that come with new designs, improvements and easy to use controls. Choose the one that is appropriate for you in all aspects, including height and dimensions.
Durability:
The laptop has to be robust, durable, so that it will be stable and not shake while you use it in the club. An added advantage would be if the stand could be clamped, so that it won't move at all, due to vibrations that are created while loud music is played.
CRANE Stand Plus Universal DJ Stand for Laptops
Guaranteed Security:
An extremely important factor is security. Basically, the stand you will purchase has to be made of strong and durable materials, so that it will guarantee stability for your laptop. Why is this so important? Well, just think about the fact that you will put the laptop above other mixing devices and you don't want to risk the laptop falling off the stand, this will basically ruin everything: the laptop, the stand and the devices below it.
Portability:
What you also have to make sure is that the stand is lightweight, so that it will be easy for you to carry it around, wherever you go. A heavy, uncomfortable stand will not be practical at all.
Appropriate Technical Features:
Consider getting a stand with an EFX unit, which is a controller for the CD player. Extensions, for gear control will also make your job easier.  Adjustable angles and height are also very important; so that you can mount adapt the stand to your specific needs.
There is a wide variety of stands available in specialized stores; and once you decide which is the one that is most suitable for your needs, you will definitely be a happier DJ, who can bring life to parties in an easier, more convenient way. Considering the above tips, you will make sure that you will choose the most appropriate stand for your needs. It doesn't matter if you're a newbie or an experienced DJ, these tips will surely help in both of these cases.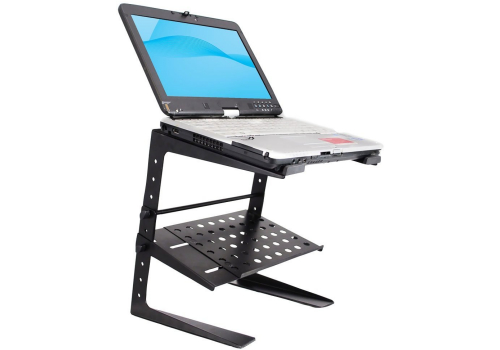 PYLE-PRO PLPTS26 Laptop Computer Stand for DJ with Storage Shelf
Now, it will be a lot more comfortable for you to spin your tracks, without worrying that you'll get everything messed up because your devices are stacked one next to the other and not properly positioned. Using a dedicated laptop stand will definitely make your life and DJ-ing a lot easier; there is absolutely no doubt about it. You will most probably never go back to your old setup again, because you will notice the difference.
So, get your DJ laptop stand ready, put all your gear together, play some great music and let's get the party started.
When you want your DJ stand to have a unique design and come with your touch you can have it by doing it on your own. There are a lot of YouTube videos for a DIY DJ stand. DJ stands are mostly built on steel so you will need a lot of metalwork, as well as welding if needed. With that said you need a better helmet. You can check out this store for helmets and more equipment on welding machines: https://www.weldingsuperstore.com.au/welding-helmets/