Tablet and notebook in one single machine, 2-in-1 detachable notebooks bring together best of both worlds. We have check out the latest from Acer, ASUS and HP to find out the best detachable laptop you can get on an affordable budget.
ACER Switch 10E
[alert-announce]Pros: Affordable, long battery life. Large 500GB hDD[/alert-announce]
[alert-warning]Cons: thick and bulky. highly reflective display[/alert-warning]
As you might have guessed from its name, the Acer Switch 10e has a 10.1-inch touchscreen display. It outputs at a resolution of 1,280 x 800 pixels, a tad low by today's pixel-obsessed standards. Nevertheless, images and text look sufficiently sharp; the biggest problem with the display is how glossy and reflective is. The Switch 10e has an all-plastic construction and is fairly thick, measuring at around 25.7mm with the keyboard dock attached. The tablet display alone is around 8mm. This means that it is easily the thickest of the trio here, and the heaviest too. With the keyboard dock, the Switch 10e weighs around 1.28kg, while the tablet display on its own is 630g.
Underneath the proverbial hood, the Switch 10e is powered by a quad-core bay Trail Intel Atom Z3735F (1.33GHz, 2mb L2 cache) processor, Intel HD Graphics, 2GB of RAM and a modest 32Gb of emmC flash storage. The Atom Z3735F is an entry-level bay Trail Atom processor, so don't expect fireworks. Its emmC flash storage may be no match for a proper SATA SSD much less a PCIe-based one, but it is still miles quicker than a traditional hard disk drive. And while 32GB might sound little, the good thing is that Acer included a 500GB mechanical hard disk drive within the keyboard – hence the overall thickness of the device. The Switch 10e also has a security feature called Acer SwitchLock, which automatically secure and locks the hard disk in the dock whenever the tablet is removed to prevent unauthorized access. Even if the drive is physically removed, users shouldn't be able to access its contents. The tablet display itself has a single microUSB port, mini-HDMI port, 3.5mm audio jack and microSD card reader for expanding storage, while the thick keyboard dock allows for a full-sized USB port.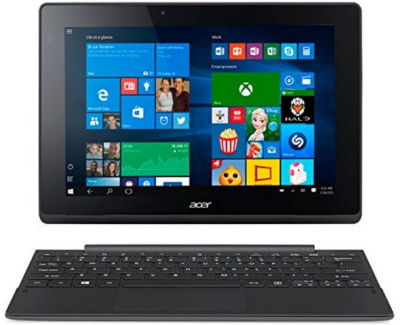 The Switch 10e also supports wireless 802.11n and speeds of up to 150mbps as well as Bluetooth 4.0. In our usage, we found the Switch 10e to be bulky, heavy and not as handy as its rivals. on the other hand, the large keyboard dock makes up with extra storage, keys that actually have room for travel, and are quite tactile to use and pleasant to type on. Additionally, the track pad is well sized for a 10.1-inch notebook and is responsive to use.
ASUS TRANSFORMER Book T100 Chi
[alert-announce]Pros: Premium look and feel. Thin, compact and light[/alert-announce]
[alert-warning]Cons: relatively poor battery life. high-res display hampers performance.[/alert-warning]
If the ASUS Transformer book T100 Chi looks familiar to you, that's because it's a smaller version of the Transformer book T300 Chi. Like the T300 Chi, the T100 Chi has an all-aluminum chassis and feels solidly put together. It even has the same chamfered diamond-cut polished edges, which gives the entire design a more visual flair. It is remarkably thin and light too, measuring just 14.8mm with the keyboard dock attached and just 7.2mm for the tablet display alone – that's even thinner than the first generation iPad Air. It weighs just 1kg with the keyboard dock attached and 570g for the tablet display alone. The T100 Chi also stands out for its high-resolution display. It has the same size 10.1-inch touchscreen display as its rivals, but it outputs a resolution of 1,920 x 1,200 pixels. This means a pixel density count of 224 pixels-per-inch, on a par with Apple's macbook Pro with retina display. As a result, the T100 Chi looks sharper and crisper than its rivals. Viewing angles are good too, but it suffers from a lot of glare and reflection.
The T100 Chi has the most powerful processor of the trio, with a quad-core Intel Atom Z3775 (1.46GHz, 2mb L2 cache) processor, 2GB of RAM and 64GB of emmC flash storage. This is one of the more powerful processors in the bay Trail family and benefits from a slightly higher base clock speed. This should translate to marginally better performance. In terms of connectivity, the T100 Chi doesn't have a full-sized USB port. Instead, it only has a microUSB port and another USB 3.0 port using a compact micro-b plug. There's also a 3.5mm audio jack, micro-HDMI port for video output and microSD card reader for expanding storage.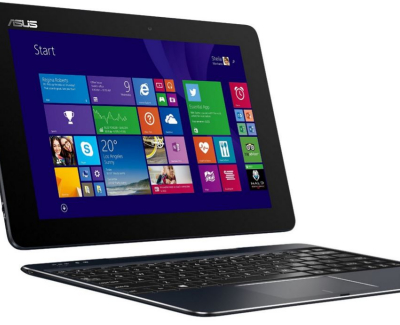 Like its rivals, it supports Bluetooth 4.0 and only wireless 802.11n of speeds of up to 150mbps. Thanks to the T100 Chi's svelte design and lightweight, it is no surprise that it is the most portable and handy of the three devices. Its high-resolution display and aluminum chassis makes the T100 Chi feel like a premium tablet. However, the keyboard dock is a little too small to be used comfortably. The keys have a good amount of travel, but are noticeably narrower and smaller; scrolling up and down with the track pad can also be a pain.
HP Pavillion X2
[alert-announce]Pros: attractive design, full-sized USB port and USB Type-C port[/alert-announce]
[alert-warning]Cons: Erratic trackpad. High reflective display.[/alert-warning]
It was hard to pick a winner, considering that all three devices performed quite comparably in benchmarks, but the HP Pavilion x2 is our best detachable laptop out of the 3 devices. X2 tipped our scales for the simple reason that it is well-rounded and makes the most of what it has. HP did a good job of masking the fact that the x2 doesn't have an aluminum chassis by painting it in fun colors. It is also the only device that manages to cram not just a full-sized USB port, but also a forward-looking USB Type-C port into the tablet display without compromising too much on portability and thickness. Our only gripe is its erratic track pad, but given that all three devices have somewhat narrow and small track pads (they are convertible notebooks after all), you're better off using the touchscreen anyway.
Out of the three 2-in-1 detachable notebooks that we have gathered, the Pavilion x2 is arguably the funkiest. Available in two striking colors, Sunset Red and Blizzard White, it is clear that HP is not settling for boring black or silver. The entire device has an even matte finish giving it an upmarket look and feel, despite being fully plastic. The Pavilion x2 sits in the middle of the Acer and ASUS in terms of size. It has a slim keyboard dock and measures just 16.7mm thick combined, but the tablet display itself is a little thick at 9.65mm. As for weight, the entire device is 1.13kg, whereas the tablet display is just 590g on its own.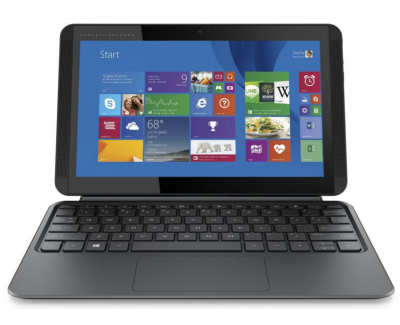 The Pavilion x2 also has a 10.1-inch touchscreen display with a display resolution of 1,280 x 800 pixels. It is similar to the Acer with images and text still looking passably sharp. That said, its colors are brighter and more vibrant than the other two machines, with good viewing angles too. Going deeper, the Pavilion x2 is also powered by a quad-core Intel Bay Trail processor, specifically the Atom Z3736F (1.33GHz, 2MB L2 cache). This processor is similar to the one found in the Acer Switch 10E, with the only exception being that it can boost to higher clock speeds – 2.16GHz vs 1.83GHz. The Pavilion x2 matches the ASUS with 2GB of RAM and 64GB of eMMC flash storage. We initially wondered why the Pavilion x2's tablet display is so thick, it's because it packs a full-sized USB port on the display rather than the keyboard like the Acer. In addition, the Pavilion x2 also eschews the more common microUSB port in favor of the thoroughly modern USB Type-C.
It's a clever and thoughtful design; because the Pavilion x2 is wedge shaped, its thickness is felt only at one end. Overall, it's still relatively compact. In terms of usage, the Pavilion x2 is certainly portable and handy. The tablet display's wedge shape and lightweight also means that it's easy to hold and feels just like an ordinary 10-inch tablet. The biggest issue with it, however, is its track pad. Not only is it too narrow to be used comfortably, it is also woefully erratic and unreliable. Many times we gave up and just used the touchscreen instead.