5 Best Ergonomic Keyboard
The trend in business these days are made through the help of computers. Gone are the days that a simple typewriter works every time. As computers are present in business and homes, it becomes an important subject to build machines that fits and work with the human body contours. For that, ergonomic computer keyboards have become a good addition especially in offices. If you are looking for the one that would fit your needs, here are 5 of the best ergonomic keyboard in the market. 
Fellowes Microban Split Design Keyboard
First off, it's hygienic. Featuring Microban antimicrobial protection, it keeps the product cleaner even after years of use. In the ergonomic side, this keyboard conforms to the natural arm and hand positions for added comfort even when you're at tit for longer hours. It even has 16-character buffer for fast operation which in turn helps for better comfort of the user. For multimedia needs, it has 7 additional hot keys control and one touch Internet access when you need it. Featuring USB connectivity, it requires no software for Windows Vista and Windows 7.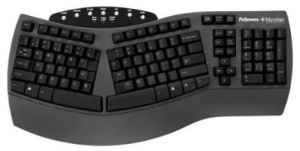 Microsoft Natural Ergonomic Keyboard 4000
It has cutting-edge design and improved performance for better comfort and productivity for home or office. Everything here is well-thought as it features E-mail, Internet and opening documents keys provided through its customizable hot keys. You can type in total comfort as its design encourages natural wrist and arm alignment so you can work without discomfort even for longer hours. Further, it is compatible with Windows 2000 SP4 or higher and even with Mac OS 10.2x-10.4x for easy plug and play operation.

Goldtouch GTU-0088 V2
Comfort is topnotch with this keyboard. With its light keystrokes, good key travel distance, comfortable curved key tops and excellent quality you can be sure that it can lessen the stress both in your hands and fingers. Further, it features the best of both worlds as it is compatible with Windows and Mac OS. Even better, it features traditional Apple short-cuts with newly added Windows multimedia shortcuts which can make things work even faster.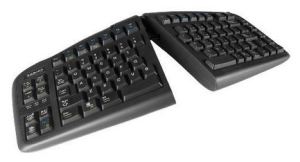 Kinesis KB500USB-BLK Advantage
It features advanced ergonomics and on-board programmability. That means you can do things faster than traditional keyboards of choice. With its contoured design, it brings ultimate comfort for daily users. It conforms to your hands structures rather you conforming to it. It works for both PC and Mac operating systems. It comes with instant configuration for Windows, Mac and even for non-Windows PC operating environments. It has integrated two-port USB hub where USB devices can be hot-plugged safely.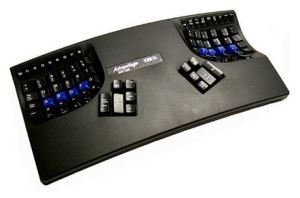 Logitech Wireless Wave Combo Mk550
This is a complete set of K350 model keyboard and M510 Mouse. Featuring a powerful 2.4 GHz wireless connection with one tiny Unifying receiver, you can save precious USB ports as you'll only need a single port for both devices. Its contoured laser mouse which has rubber grips can give smooth and precise cursor control every time. Its wave-design, ergonomic keyboard with cushioned palm rest were built for exceptional typing comfort as well. As it utilizes wireless connection, it requires battery. Fortunately, you can have up to three years of battery life for the keyboard and two years for the mouse which is by itself a huge plus. Definitely a worthy candidate for the best ergonomic keyboard.