A keyboard is an important part of PC gaming no matter how you look at it. It is as important as the graphics card of your computer. The latest hardware might help you run the latest games, but what good is it if you're not enjoying it due to a dysfunctional keyboard? Gaming is a visual experience but it is also a tactile one, which is why we will try to give you the best mechanical gaming keyboard on this article.

Choosing the best mechanical gaming keyboard
If you are choosing a mechanical gaming keyboard, the type of switch used in it isn't the only thing worth noting. The keycaps themselves can play a big role on how comfortable a keyboard can be.  There are four types of keycap printing methods, each with their own pros and cons.
Types of Keycap Printing Methods
Pad Printing: The most common. Pad printed letters are like stickers placed on top of the keycaps.
Pros: Low cost. Easy to use. Multiple colors on a single keycap.
Cons: The printing sticks out. Wears out fast.
Laser Etching/Engraving: Lasers or other instruments are used to burn/carve in the letters on the keycaps.
Pros: Lasts a long time. Unique look.
Cons: Can feel grooves if not done properly.
Dye Sublimation: The lettering is formed using a dye, which seeps into the plastic keycap.
Pros: Lasts a long time. No grooves or inconsistencies.
Cons: Expensive process. Only able to print letters darker than the plastic.
Double-Shot Injection molding: A two-step process in which a legend is first molded in plastic. The insert created is then put into another mold, while another piece of plastic is inserted under it and combined using heat.
Pros: Zero wear. No feel.
Cons: Expensive. Rare.
Switches: Keycaps aren't the only aspect of mechanical keyboards, though. Switches are a critical part of selecting one. There are a few major variants. Cherry switches and clones are the most common, but companies like Logitech introduced new switch types to the market. There are three kinds of switches, regardless of what company makes them. Tactile switches have a bump. Linear switches have no feedback. Clicky switches tend to be tactile and produce a loud clicking noise. You can learn about their applications on Go Mechanical Keyboard's introduction page, which holds a lot of useful keyboard shopping information.
Best Mechanical Gaming Keyboards
ASUS STRIX TACTIC PRO
The ASUS Strix Tactic Pro is one of the more expensive peripherals ASUS produced, overshadowing even its own premium ROG (Republic of Gamers) brand. It is the second most expensive keyboard in this list and the heaviest of them all. It's big, it's firm and it is overflowing with macro keys. You have macros under your thumbs, two whole rows of macros on the left and even the F1 to F12 keys also double as macros. If you're an MMO player, this keyboard should be right up your alley. To top it off, it also has physical media keys and a neat little volume roll bar. You will see this in the Logitech G910 as well, though the one on the Tactic Pro is a bit stiffer with less give. To manage all these keys, ASUS throws in a great configuration utility that's pretty functional. While it seems impressive at first, the excessive number keys make the keyboard a little awkward to use. Your hand will be having a workout, which was especially discomforting when you cannot afford to lift your finger off the WASD keys while gaming. Then there are the thumb macros which seems off.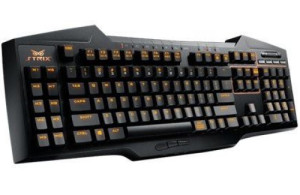 Perhaps one of the reasons is because the Tactic Pro doesn't have a wrist rest and comes with very short stands. Your thumbs and fingers will felt like they had to travel more than they had to, to reach the intended keys. One consolation, the Tactic Pro thumb buttons were better raised and rounded, which helped identify what you are pressing. Tactic Pro uses Cherry MX Red switches though its product page shows that you can get them in any of the other Cherry MX colors as well. The Asus Strix Tactic Pro is a solid mechanical gaming keyboard, but it seems that ASUS may have gone a little too far in trying to put as many macro keys on it as possible. While they were functional and a delight for MMO players, its implementation requires a learning curve where you'd initially have to keep glancing down to see if you are pressing the right keys. As the largest keyboard on this list, it also means your fingers have to travel longer distances.
Pros: Tons of customization. Solid build. Distinguishable thumb buttons.
Cons: Awkward to use. Huge.
LOGITECH G910 ORION SPARK
The Logitech G910 Orion Spark is one of the few mechanical gaming keyboards around that doesn't use any of the popular mass produced switches from Topre or Cherry. Instead Logitech uses their own design which is dubbed as "Romer G", which they claim to be faster than conventional mechanical switches. They are pretty similar to Cherry Brown keys, though they have a bit more resistance to them. While Browns are easily depressed, you need a bit more force to push down Romer G keys. Romer G stem and keycaps are also proprietary. The square stems allow more light to pass through, which makes the G910's keys brighter than the other keyboards in the list. On top of that, its keycaps are concaved, with angled sides that lead your finger right to the middle of the button, and it actually does work once you get used to them. The G910 also has an Arx Dock, which is just a fancy name for a smart device holder. It is a small inclusion but it's unique and useful. Both tablets and phones can be slotted in and removed without issue so you can easily use your smart device as a second screen to display guides or videos when you are playing.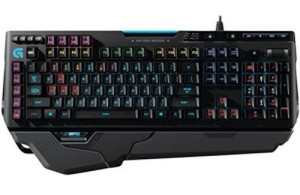 Like the ASUS Strix Tactic Pro, the G910 has quite a bit of macro and shortcut keys going on. However, unlike the ASUS, Logitech's tries to fit them around existing keys for easier access. For example, instead of two rows of macros to the far left like the ASUS, the G910 has just one row, while the second row of four keys is located above F1-F4. With this setup, both rows of macros (Logitech calls them G-keys) are within easier reach without either overstretching your fingers or having to lift up and move your hand to press a macro key. The downside to the G910 is mainly due to its price. It is the most expensive keyboard in this list and a serious investment for any gamer considering that it uses its own custom switch design, which limits off-the-shelf replacement parts. Plus, for this price, we expected better materials used. Its use of plastic keeps it lightweight enough.
Pros: Arx Dock has its uses. Smooth volume roll bar.
Cons: Custom switch might be troublesome to repair. Expensive.
RAZER BLACKWIDOW CHROMA
The BlackWidow Chroma is another keyboard in Razer's much loved BlackWidow line. It does feature some design tweaks but the main features here are the gorgeous backlights that cycle colors as you type. You can configure them to do other things too if you prefer, or find it too distracting. The backlights fill the whole keyboard; not only are the keys illuminated, the spaces in between them are too, which makes for a really cool effect. The keyboard also has the longest stands among the rest. However, they are not adjustable, so if you're not sure you are comfortable with such a steep angle, you might want to try out the Chroma at a shop first. The Chroma is the other keyboard that uses custom mechanical switches and like Logitech, Razer also claims to have superior capabilities compared to your standard switches. Having used the Chroma for a while, we'd say they are a cross between Logitech's Romer G and Cherry MX Browns.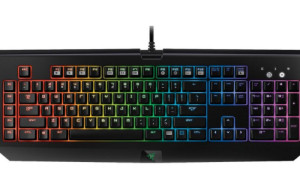 They're not as heavy as the Romer G, but don't have the springy nature of the Cherry MX Browns. It's great for typing and playing but it is significantly noisier. Buying rubber rings might not be a bad idea if you're planning on using the Chroma in the office. Unlike Logitech though, the Chroma is compatible with standard Cherry keycaps. Key layout is very minimalist and after playing with both the ASUS and Logitech, it may not be a bad thing. Otherwise, it does offer fully programmable keys, anti-ghosting features and on the-fly macro recording. The keyboard can also serve as a pass-through, as it has audio jacks and a USB port on the side. It's great except the keyboard uses two USB 2.0 ports (or one USB 3.0) on whatever machine you're connecting it to. Since it has audio pass-through capability too, that means you also get two more cables (for the audio) on top of the two USB cables. As the cables aren't detachable, it can get a bit messy. Minor gripes aside, the BlackWidow isn't that bad of a keyboard. It's not flawless but it's far from being the worse mechanical gaming keyboard out right now.
Pros: Great looks and feel. Custom switches with Cherry stems. USB port and audio jacks built-in.
Cons: Noisy. No wrist rest. Weak indicator lights.
ROCCAT RYOS TKL PRO
The ROCCAT RYOS TKL PRO is the latest in Roccat's line of mechanical keyboards. The one we have is using Cherry MX Red switches, though Roccat also offers the keyboard in different Cherry varieties. For gamers who don't have lots of space, the RYOS TKL Pro is a great option. It might be missing a Numpad (which makes entering numbers a chore) but the Easy Shift [+] function more than makes up for it since they effectively double the available keys you can map shortcuts and functions to. If you have a Roccat mouse with Easy Shift [+] , you can easily pair it with the keyboard. When paired, you can use either peripheral's Easy Shift [+] button, to toggle the alternate commands. Per-key illumination sure seems cool on paper too, but using it is another thing. The top row of the keyboard (from ESC to Break), WASD and arrow keys are constantly illuminated; the rest fade in and out as you use them.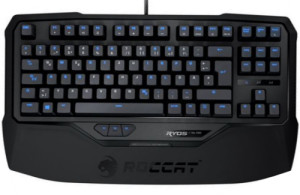 It really defeats the purpose of having backlights in the first place since you need to hit the keys to light them up. Also, we've encountered weird issues where sometimes they don't turn on after you hit a key, while other times they seems to linger longer than usual. Like the ASUS, there are extra macros below the spacebar. Roccat calls theirs 'Thumbster' keys, and like ASUS, we still felt they were awkward to actually make use of. Otherwise, the RYOS TKL Pro was actually one of the most comfortable keyboards to use due to its jumbo wrist rest. Despite being made of plastic, it does its job well, is stable and smooth enough to allow sliding of our wrists while typing without any issues. The Roccat RYOS TKL Pro might be the shortest and lightest keyboard in this shootout because of its Ten Key Less design, but by no means does it shortchange gamers in terms of available customization. Roccat's Easy Shift [+] is still probably the most elegant manner of increasing available keys used for macros, resulting in much more usable keys than most.
Pros: Easy Shift [+] doubles available keys. Great tactile response from switches. Large integrated wrist rest. Can pair with Roccat mouse with Easy Shift [+] key.
Cons: TKL means the loss of the Numpad. Per key illumination doesn't work right
Our Best Mechanical Gaming Keyboard is…
ROCCAT RYOS TKL PRO
The Roccat RYOS TKL Pro gets our stamp of approval here, though it was a close race with the Logitech G910 Orion Spark. In the end, the Roccat keyboard won us over. If the Romer G system changed the game significantly, it would've been another matter, but the truth is other than the stem and keycaps, the Romer G switches feel similar to Cherry MX ones. On top of that, getting replacements for the keys might prove problematic since the switches are proprietary.  Gimmicky lighting aside, what really did it for the RYOS TKL Pro is the Easy Shift [+] function. Custom physical keys are fine and dandy, but they take up space on a keyboard. The Easy Shift [+] function only takes up one key and makes every other key have an alternate function without adding more stuff. It might be the smallest and lightest keyboard in our shootout, but it offers the most in terms of performance, customization and comfort. In this case, lesser is indeed more.
Here are few more mechanical keyboards that you might find interesting if the above list doesn't appeal to you:
Mechanical Gaming Keyboard Suggestions
Cherry MX Board 6.0
This is Cherry's new flagship keyboard, with adjustable red backlighting and blue highlights for keys like CapsLock and Windows. It's solidly made, and great for typing, with a big rubber wrist rest that attaches magnetically at the front. But for many users, the advanced technology might be overkill.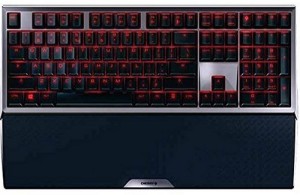 Pros: Fast, very sensitive
Cons: Out of place Blue LED lights, bit expensive
Matias Quiet Pro for Mac
This model is available in a 'Tactile' version (with a lovely clicky feel that's very loud) or in this 'Quiet' version. Three extra USB 2.0 ports are built-in, and the USB cable that connects to your Mac is detachable for longer life. However, the two-tone styling looks a bit ugly next to a Mac.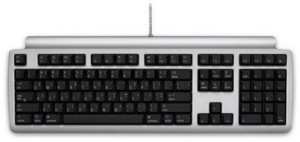 Pros: low noise, sturdy
Cons: keys are a bit cramped
Filco Ninja Majestouch-2
This sturdy keyboard in black plastic can be ordered with red switches, like the MXBoard 6.0 (above), which press evenly with no click; blue (which have an audible click and tactile bump), brown (tactile but with no click), or black (like red but heavier). Aimed at touch typists, the key labels are on the front face, where they are less distracting.


Pros: tenkeyless offers a more ergonomic setup, more enjoyable typing experience
Cons: No removable USB Cable