Are you ready to test out the hottest motherboards to date? But can't decide which one to pick? We'll help you out with this list of 5 best z170 motherboards. Before that, lets take a look what's new in these motherboards.
Intel Z170 will feature a new LGA1151 CPU socket, which means you won't be able to use LGA1150 Haswell or Broadwell chips on a Z170 motherboard. Fortunately, Intel has maintained its practice of preserving CPU cooler compatibility across different socket generations, so you will still be able to use LGA1150/1155/1156 coolers with Z170 boards and Skylake CPUs. And without further adieu; here are the top 5 best z170 motherboards.
ASUS Z170-Deluxe
This board sits at the top of ASUS' lineup of mainstream Z170 boards, adorned with a striking white rear I/O cover and heat sinks. The Deluxe comes with premium features like 3×3 802.11ac Wi-Fi, five USB 3.1 Type-A ports, and one USB 3.1 Type-C port. Z170 does not yet support USB 3.1 on the chipset, so USB 3.1 functionality is provided by the ASMedia 1142 controller, which is the go-to controller for select boards from other brands as well.  There are eight SATA 6Gbps (including two SATA Express ports), two more than the six supported by the chipset. As with USB 3.1 functionality, ASUS has turned to the third-party ASM1061 controller to provide the additional SATA 6Gbps ports.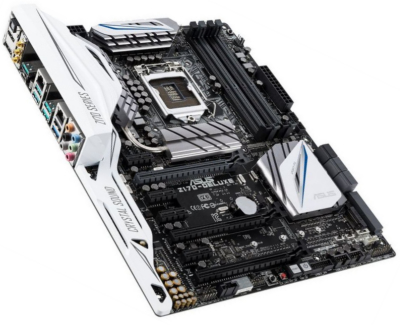 Networking is handled by dual Intel I219-V and I211-AT controllers, yet another example of the third-party controllers needed to provide additional functionality like Gigabit Ethernet. The first two full length PCIe 3.0 slots will run in x8/x8 mode (16 lanes from the CPU) with dual-graphics cards, but the last slot actually only runs in x4 mode off the chipset itself.  An integrated 5-way Optimization feature automatically takes into account various use cases and optimizes your system for either performance or energy savings.
Gigabyte Z170X Gaming G1
This top-end model from Gigabyte comes with metal-reinforced PCIe slots, a feature that's also found on select MSI boards. Notable features include a PLX chip to allow dual-graphics setups to run in x16/ x16 mode, although it should be noted that this has more to do with PCIe lane switching rather than the provision of an extra 16 lanes.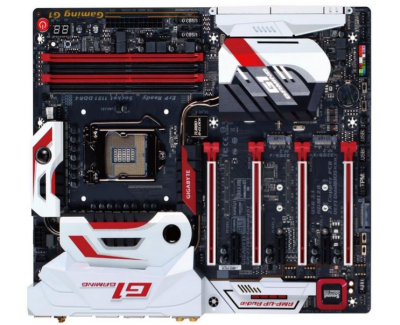 There are also two PCIe 3.0 x4 M.2 slots, although installing drives in both of them will disable certain PCIe slots and SATA ports. In addition, it combines dual Killer E2400 network ports with a Killer 1535 802.11ac dual-band Wi-Fi module for a gaming oriented network solution. This means that it supports the Killer DoubleShot X3 Pro network manager, which automatically routes traffic across the fastest network interface (either one of the Gigabit Ethernet controllers or the Wi-Fi module).
ASUS Maximus VIII Hero
Here's another board from ASUS, this time from its much-vaunted Republic of Gamers series. The gunmetal gray heat sinks with red accents are a joy to look at, and this board offers fairly good value in the ROG series. Like the Z170-Deluxe, the Maximus VIII Hero ASM1061 controller makes a return to provide two SATA 6Gbps ports, on top of the six SATA 6Gbps from the chipset itself. In addition, the single M.2 slot can only run in PCIe 3.0 x4 mode from the chipset and will only support PCIe SSDs.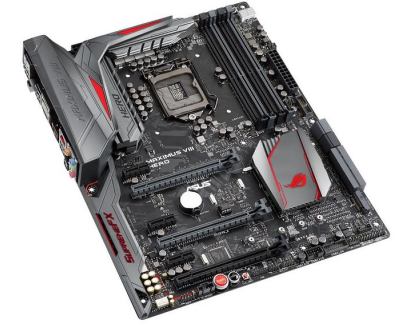 And as expected of a board of this caliber, two USB 3.1 Type-A and Type-C ports are also found round the back.  Storage connectivity options aside, the board comes packed with standard ROG features like the upgraded SupremeFX 2015 audio circuitry, GameFirst network prioritization software, and a spanking new RGB backlit ROG logo on the PCH heat sink.
MSI Z170A Gaming M5
The MSI Z170A Gaming M5 falls under MSI's top-end Performance series of motherboards, and as such comes with a handful of gaming-oriented features. As the middle-of-the-pack model in the series, the Gaming M5 has shed features like a manual overclocking knob called Game Boost and a rear I/O cover. It retains the new Killer E2400 Gigabit Ethernet controller, which adds features like the ability to prioritize network traffic for both websites and applications. The ASM1142 controller is responsible for USB 3.1 Type-A and Type-C connectivity, so you still get support for the fastest external storage devices.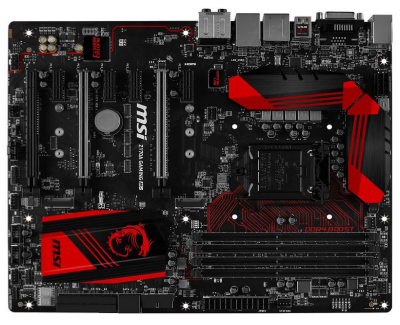 One of the two onboard M.2 slots is also a SATA-only slot, and using it will disable a pair of SATA 6Gbps ports. The other is a PCIe 3.0 x4 slot, and it's a little strange to see that MSI hasn't opted to just let both ports use four PCIe lanes from the chipset. Unique features include DDR4 Boost, which takes a leaf from the design of the audio circuitry and isolates the memory signals from the rest of the PCB in order to produce a cleaner signal. As on the Gigabyte board, metal-reinforced PCIe slots also make an appearance here.
ASRock Fatal1ty Z170 Gaming K6
The ASRock Z170 Gaming K6 sports a matte black PCB and striking accents of red along the heat sinks, PCIe, and RAM slots. The PCH heat sink has also been emblazoned with the silver praying mantis emblem of the Fatal1ty series. Networking is handled by the Killer E2400 Ethernet controller that also features on boards from Gigabyte and MSI. Storage options include up to eight SATA 6Gbps ports and a single M.2 slot that supports both SATA and PCIe-based drives. The M.2 slot also supports a U.2 adapter kit for installation of NVMe 2.5-inch drives like the Intel 750 series SSDs, and similar adapters are also available for boards from the likes of ASUS and MSI.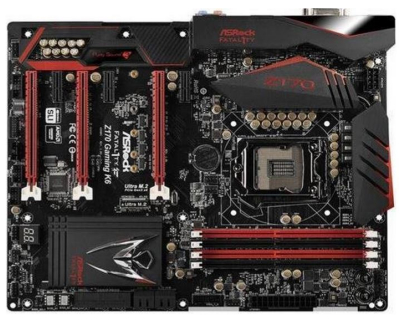 In addition, USB 3.1 Type-A and Type-C ports again make an appearance on the rear I/O panel, courtesy of the familiar ASMedia 1142 controller. Other standout features include a macro program called Key Master to help you program hotkeys and macros on both keyboard and mouse, and an external base clock generator for finer control over overclocking.
See Also:
PC Parts Buying Guide: Motherboard
Best Motherboard for Gaming