The HP Pavilion X2 looked to be an underdog as compared to many high-end laptop in the market today. If it were still running Windows 8.1, this would certainly be the case. However, with Windows 10 onboard, this sort of device is really starting to make sense, and while power users will scoff at the tiny 10.1in screen, 1.33GHz Intel Atom processor and 32GB of storage, there is now much to be said for these little hybrid devices. It's cheap, but by no means nasty.
Design
To the naked eye, the Pavilion x2's tablet portion looks like it's machined from a single block of aluminum. In fact, it's made from several pieces of brushed silver plastic but, until you get your hands on it, you'll be none the wiser. Smooth but angular edges, delicate speaker grilles and a sturdy magnet keeping the keyboard and tablet together make for a premium-looking device.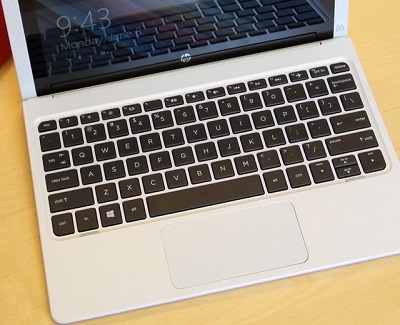 Features
The IPS screen is a budget-buster too. It's punchy, with a maximum brightness of 327cd/m2 and 1,158:1 contrast ratio, and wide viewing angles mean you don't have to tilt your head to get a good view. Color coverage is fairly poor, which affects color vibrancy, but you're unlikely to do better at this price. We were surprised to find we could get some serious work done on this machine. You can't have more than one window in focus unless you like thin columns of text, but once you combine deft swipes on the touchpad, prodigious use of Windows 10's Task Switcher and precise prods on the excellent touchscreen, you'd hardly notice you're working on such a tiny laptop.
You also won't be constantly checking the battery gauge, as it lasted 7hrs 51mins in our battery test. With modest usage, you can go an entire working day without having to attach the USB Type-C charger. All the x2's ports are on the tablet portion – the keyboard doesn't offer any extra connectivity. Alongside the charger, there's a conventional USB 2 port, a microSD card slot for expanding the device's paltry 32GB of eMMC flash storage, as well as a 3.5mm headset jack. Despite the Bang & Olufsen speaker branding, there's no bass whatsoever and it doesn't even seem as if the audio is coming out of the front-facing grilles.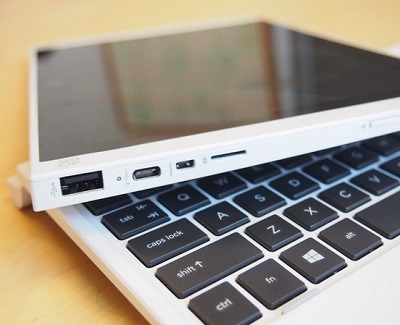 Performance
Performance is surprisingly sprightly. The quad-core processor does a decent job, but much of the credit should go to a combination of Windows 10's massively improved gestures and the clever rendering techniques of the Edge web browser. Load up The Guardian's image heavy homepage using Google Chrome and you'll notice things slow to a judder as you attempt to scroll up and down. Edge capably handles what matters first, loading text and then images, while keeping the scrolling action smooth and predictable. It must be said, however, that an Intel Atom processor was never intended to render 4K videos. The HP Pavilion x2 definitely lacks oomph, but it's one of the best budget hybrids you can buy today. Set aside the paltry storage and iffy speakers, and you have an effective laptop and a decent tablet, which is quite something for $257.