There's a plethora of high-end gaming mice available featuring absurd resolutions, mindboggling button and lighting customization options, and wallet-busting price tags. The $35 Xornet II from Cooler Master, however, is a pleasant reminder that a quality mouse needn't cost a fortune. At the heart of the Xornet II is the Avago 3320 sensor, a 3,500dpi optical model that's the upgrade to Avago's popular 3310 sensor. Of course, 3,500dpi doesn't sound like much these days, but it's still more than adequate for gaming and desktop use on a 1080p or 2,560 x 1,440 panel.
More important than resolution is accuracy, and in this respect, the Xornet II is flawless, delivering smooth, one-to-one tracking free of acceleration, snapping or jitter across its range of resolutions. This range starts at 250dpi and can be increased in 250dpi increments using Cooler Master's simple-to-use software suite. The mouse stores three resolutions on-board and the RGB scroll wheel can be set to a different color for each one to act as a simple indicator. You can also configure the polling rate (maximum 1,000Hz) and lift-off distance, although tweaking the latter made no difference to our experience.
A great sensor is no good if the mouse is uncomfortable to wield, but thankfully, the opposite is true. If you're a claw-grip gamer, the Xornet II could hardly be better designed. It's a little on the small side, but rubberized sections on both sides give your tips a good grip and reliable control, while grooves for your other fingers ensure comfort even during extended play.
The Xornet II is light at 80g and this weight can't be adjusted, but this weight actually suits a claw grip well and the body is still solid. The two main buttons are isolated and have a smooth soft-touch finish, while it's comfortable to rest your hand against the matt surface elsewhere. The PTFE feet are also massive and thick enough to prevent drag on softer surfaces, while the USB cable is thin, flexible and attached via a strain reliever. Omron switches are a staple of high-end mice but their inclusion in the $35 Xornet II is impressive – both main buttons feature D2FC-7-7N switches, which have excellent feedback and a light action that suits a wide variety of game types. There's also a pair of thumb buttons, and two resolution-adjustment buttons sit south of the scroll wheel. Each of these buttons is raised slightly and positioned in a way that makes them easy to hit. They're a touch wobbly in their sockets, hinting at the low price tag, but it' a minor niggle and not distracting in use. That just leaves the scroll wheel, for which we're full of praise – it's seated securely, has a pleasant, rubberized surface with clearly defined notches when you scroll, and it has a well-tuned click force too.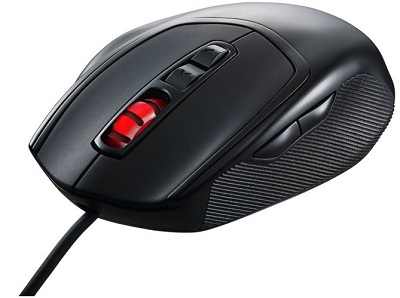 Cooler Master has even managed to give its new mouse some basic button customizations for all seven switches, and the software is again delightfully simple to use. You can't have custom macros or multiple profiles, but basic key bindings and Windows functions can be applied with ease and are stored on the mouse itself. Added complexity is going to cost you more, but it's great to see some simple tweaks present in such an inexpensive mouse.
Conclusion
The Xornet II is a wonderful mouse, and it's refreshing to see the value it offers. Its shape is unlikely to appeal to palm-grip users, or gamers with larger hands, but it's ideal for claw-grip gamers. It even features excellent tracking, seven customizable buttons and on-the-fly resolution adjustment, but doesn't include superfluous tickbox features that needlessly bump up the price, making it very easy to recommend.