As its name suggests, The Strafe RGB offers full RGB per-key backlighting, whereas the original Strafe only offered red lighting. This feature ties in to Corsair's Utility Engine software, which gives comprehensive control over the lighting effects of every key, in addition to other parts of the keyboard. The Strafe RGB also sports a reasonably large detachable wrist rest for extra comfort and a USB 2 pass-through port – both missing features on the cheaper non-RGB model. The USB pass through is useful for connecting other desktop peripherals such as mice and headphones to your PC. Sadly, though, Corsair's excellent dedicated media controls and volume dials from the Vengeance K-series of keyboards are still absent from the Strafe RGB, as are dedicated macro keys. However, there's a far more significant addition to the keyboard – Cherry MX Silent switches. As with Cherry's RGB switches, Corsair and Cherry have a license agreement allowing Corsair alone to use these new switches for the time being. They're aimed at fans of mechanical key action that are looking for quieter key presses, following feedback Corsair has sought from its community.
Design
To make these new switches, standard Cherry MX Red and Black switches have been modified so that the switching slider inside them now features a TPE elastomer in the mechanism. This component not only reduces the bottoming out you experience with some mechanical switches, but more importantly, the top-out noise as well. The latter occurs when you release a key and there's often a loud tap as the key returns upwards, significantly adding to the noise made by the switch during a keystroke. While you can use O-rings to reduce bottom-out, there's nothing you can do to alleviate top-out.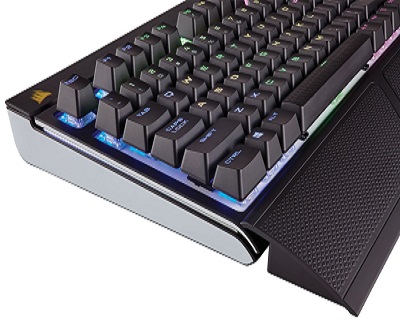 The effect is quite profound. The switches, in our case, the silenced Cherry MX Red variety, were noticeably quieter than standard switches, with the top-out especially being much quieter, although they're still louder than membrane and scissor switches. The actuation force (45cN for a Red switch) and general feedback is identical to the vanilla Red switches too, although they feel slightly different and clearly have reduced audible feedback too. As such, you might not take to them instantly, even if your current keyboard uses Red switches.
Features
There are some other good features too. As usual, Corsair's Utility Engine allows complete control over key assignments and backlighting, and while it appears complicated to new users, you can find your way around quite quickly. You can also record macros, or assign keys to execute macros, Windows shortcuts or media controls. Meanwhile, the per-key RGB backlighting control is superb, and the lighting itself is much more pleasant and flexible than that on the original Strafe too.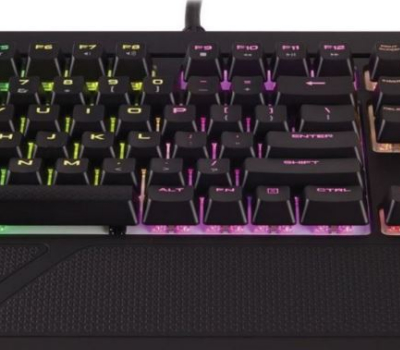 Conclusion
The silent Cherry MX switches really do offer much quieter but the Strafe RGB itself sports numerous other features that may well tempt you to pay a little more over the standard Strafe. It's also cheaper than many other RGB keyboards, although the plastic construction and lack of dedicated media and macro controls mean it doesn't quite offer an overall package that stands out as being worthy of an award.