We are all aware of the great Huawei company that now competes with major Organizations globally like Samsung, Apple, Oppo etc. Huawei arose with their magnificent eye for innovative technology, they don't like being monotonous and so they always try to figure out to innovate new tech that they can apply in their Gadgets.
With their lashing phones, Huawei isn't too short in competition in terms of Laptops and so in this case they unveiled the lavishing Huawei MateBook X Pro.
Some even dub this laptop as the Windows version of MacBook, such good looking is this laptop but as we all know looks aren't all that we look for in Gadgets, there are specs and other things to consider too before getting something. So, in this case too, if you are unsure what this Huawei MateBook X Pro is made of, we tried to unveil almost everything as much as we could that this Laptop has so that you don't have a problem in deciding whether this is the one or not.
We shall not wait any further long and shall get started discussing this beautiful machine that Huawei has manufactured.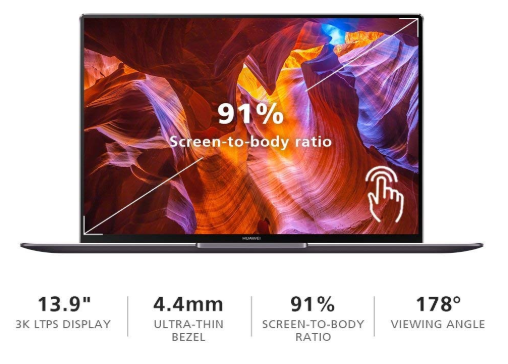 Specs
In this segment, we shall see the Basic Specs of the Huawei's MateBook X Pro, The MateBook basically comes with two models, both of them have slightly different changes in them but as a whole it's a very good laptop. Let's see-
It comes with a Processor of Intel Core 1.6 GHz and the other model comes with 1.8GHz Intel Core i7. Again, there are two memories for the Laptop, one's with 8GB and the other is with 16GB. Display of the MateBook is discussed below briefly. It comes with a very good combination of Graphics of Intel UHD 620 which is integrated in the machine plus Nvidia GeForce MX150 with 2GB GDDR5, however the MX150 Graphic Card is not included in the i5 version of the MateBook.
Storage, again are two different types. One's with 256GB and the other is with 512GB. The Front Camera rates at 1MP. Ports of the MateBook are briefly below as well and the Battery is a very good too standing at 57.4Wh.
Design
At first we shall take a look at the slick design Huawei has brought in with this laptop, no wonder with its aluminum finish it resembles with the Apple MacBook.
Along with being slim, the Huawei laptop comes with a silver color and is a lot to easy to open with one head. Looks of this machine have caught the eye of a lot of people and they aren't wrong, no wonder it's dubbed as the Windows version MacBook.
The 14 inch MateBook Pro weighs 2.9 pounds. On the left side of the MateBook, you'll find a Thunderbolt 3 Port, a USB Type C Port and a headphone jack and also the USB Type A port is on the right side of the machine. Pretty good with the USB jacks here.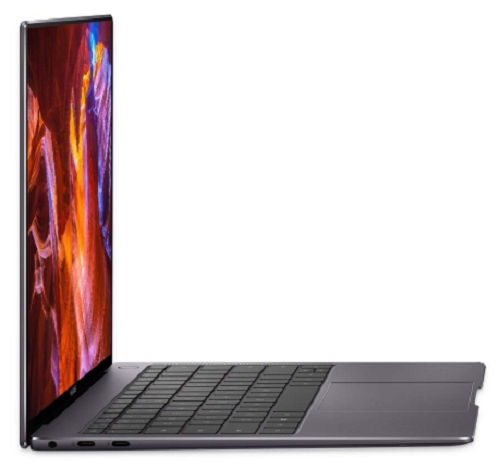 Display
Huawei's MateBook X Pro has a vibrant and with plenty of detail screen of 3000 x 2000 pixel which is pretty amazing it self. The MateBook X Pro display emits upto 458 nits which makes it one of the brightest laptops there is in the market. Not only that, the MateBook X Pro has a touchscreen another beautiful to put in the machine that makes it magnificent.
Typing / KeyBoard
The backlit keys of the keyboard are in itself lit but for some users the keys were a bit stiffer and shallower, something that wouldn't matter much but still had to put this in, the overall experience of the keyboard that you would feel is very pleasant.
The best thing about the MateBook that they have integrated is the Excellent Fingerprint reader that is integrated in the power button, the advantage of a Fingerprint reader that they themselves are very fast and accurate, although, I can't say if this a flaw for the fingerprint but there is no visual indicator that tells to log in with your finger but if you already know that your muscle memory should be quick enough to log in.
Another good feature, for some it's good, for some it's a okay feature and this feature is the feature that you might have read or seen somewhere which is the camera that is placed among the keys on the keyboard. Camera of the MateBook X Pro is place between the F6 and F7 keys and with a physical touch just as you press a button, the camera will pop up.
Conclusion
In some portions above, we tried to cover the main aspects of the Huawei's MateBook X Pro features, simple as possible and now we have arrived at the conclusion where we render our final thoughts on this beautiful and great machine.
Huawei, no wonder has arrived as one of the biggest competitors in their industry due to their innovation and well products, as a result many of the users of MateBook have been happy and very satisfied with what they are using or they have used. There are slight disagreements here now and then and they are minor, nothing that catches your eye or are the major ones. If you use the MateBook, you'd find there is nothing wrong to highlight which also says that there is nothing wrong worth noting in the MateBook X Pro.
In our view, the Huawei MateBook X Pro serves its purpose very well and satisfies its user, there is no major drawback that would skew the users to not use it and overall it's a very good laptop with very good features. You can't say if this is a gaming laptop or the one that can be used for heavy games but with the graphics card integrated and their Graphics Combination, you can use the laptop for gaming, it's not that it's bad, just a thought that we wanted to share with you if in case you had the thought that with the specs it has it might be a gaming laptop.

If you are intending on buying the laptop, the above features that we briefly discussed may prove sufficient for you to make a decision, we hope. Thank you J