Mechanical Gaming Keyboard: Corsair Gaming Strafe
You can't say that you're a hardcore gamer if you're still using a regular membrane keyboard for all your PC gaming needs. Sure, you might argue that when it comes to competitive gaming, its skills – and not hardware – that determine winners. But then again, wouldn't it be so much more enjoyable to decimate your opponents while using a proper mechanical gaming keyboard like the Corsair Gaming STRAFE instead? You can immediately tell that the STRAFE is made with gamers in mind from its striking red backlighting, and that it also comes replete with replaceable, textured key caps for the 'Q', 'W', 'E', 'R', 'A', 'S', 'D' and 'F' keys – which would definitely come in handy to the FPS and MOBA player who needs their primary keys to feel distinctively different from the surrounding keys.
Features
What's more, the STRAFE also comes with a convenient USB pass-through port on its back to negate the need for you to crawl under your desk in search of a vacant USB port at the back of your gaming rig. Speaking of which, we managed to stream 1080p videos smoothly from a portable USB 3.0 hard drive that was connected to the STRAFE's USB pass-through port. As with most full-sized mechanical keyboards these days, the STRAFE – likewise – comes with a comprehensive selection of lighting effects, including Wave, Ripple, Visor, Rain, Type Lighting (Key), and Type Lighting (Ripple). They can each be selected and further fine-tuned to your preference through the accompanying Corsair Utility Engine software, which could potentially be dauntingly complex to use due to the sheer amount of customization options that it offers.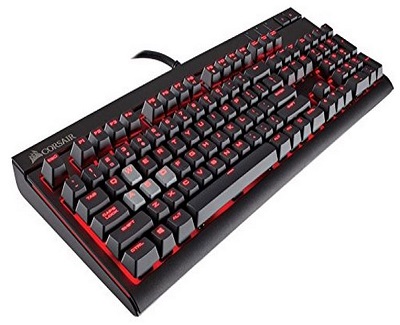 Sadly, the STRAFE's myriad of lighting effects is subverted by the fact that the keyboard is only able to light up in shades of red – a far cry from the 16.7 million different colors that most mechanical gaming keyboards are capable of flaunting these days. There's more redness to be found under the STRAFE's keycaps as well, courtesy of its German-built Cherry MX Red switches, which not only requires minimal actuation force to activate, but also offers little to no tactile feedback when you're mashing away at the keys. Simply put, the Cherry MX Red switches of the STRAFE works exactly the way it should.
If you find the Cherry MX Red keys' lack of any physical feedback a little too unnerving, you can always have the STRAFE outfitted with Cherry MX Brown switches, which should, in theory, provide you with a subtle, but assuring tactile feedback with each key press. Sadly though, the STRAFE isn't available with the full-on 'clicky-clackety' Cherry MX Blue switches that serious typists would often swear by. Nevertheless, after spending a good week using the STRAFE to churn out a mountain of articles and wreak havoc in Team Fortress 2, we can wholeheartedly conclude that the STRAFE is a very satisfying keyboard to use, regardless of whether it's for work or play.