Planning to get a new keyboard this holiday season and don't know what to pick? Have a look at Razer BlackWidow Chroma TE. Below is the review of the keyboard by the tech expert ZAK STOREY.
If there was a switch that's made us go "holy macaroni!," it's this one. Razer has deviated from its traditional choice of Cherry key switches and instead gone with its own custom-designed mechanical switch—a switch that you'll currently find in all the mechanical keyboards in its range. It provides a highly responsive, soft, tactile typing experience that's ideal for gamers and typists alike. Admittedly, this isn't the quietest key on the market, as it still retains the signature click of a mechanical switch.
But, honestly, the pleasure your fingers are going to feel from these little things is second to none. It has a higher actuation point when compared to Cherry's world famous red switch, yet it's still more responsive than the blue while retaining that tactile click. This gives it a classy feel and a beautiful noise. Razer provides four different editions of the BlackWidow Chroma line-up: The TE edition, which is a tenkeyless variant, a "stealthed" version of the TE, which is presumably a great deal quieter than its clicky cousin, and both clicky and stealthed full-sized Chromas, featuring all the doohickies you'd expect. The TE cuts the nonsense, however. For the price and size you lose out on both USB and audio passthroughs as well as an additional five macro keys (although, honestly, how often do you use those things?).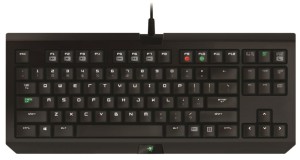 In addition there's no wrist rest— at this price point, it would've been nice to have seen Razer include one. The keyboard naturally sits at a fairly high angle when resting on a flat surface. No doubt in part to the large amount of hardware buried inside of this miniature behemoth. Yet the Chroma still has more Best keyswitch known to man… probably. to give, with the traditional pair of angled risers found at the back of the keyboard as well.
This is all a bit inconsequential when compared to the biggest, and by far the most impressive, feature on the entire Chroma line-up: the way Razer has handled the lighting. CUE-WERTY Following the current trend for lighting individual key switch—yes, you get the standard 16.8 million colors—what is interesting here is the lighting controller itself. Similar to Corsair's latest CUE iteration, it features a wide variety of modes from reactive, to ripples and waves, color cycling, breathing, and the traditional static. Unfortunately, what it does lack is the in-depth customization that Corsair's RGB tech is well known for. You won't be able to code any fancy coruscating color combos into the Chroma.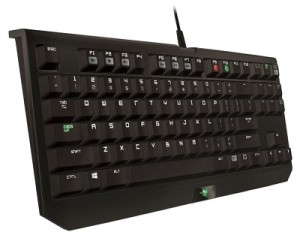 [button-brown url="http://amzn.to/1YhFxUw" target="_self" position="center"]Check this keyboard on Amazon[/button-brown]
What Razer has brought to the table, though, is a fantastic user interface experience. For the less code-savvy users you can simply change what colors you want to see, how fast or slow you want the color options to cycle and which keys you want to have the effects on and then you're all set. For day to day use it's perfect. On top of that, despite the fact each key is lit up using one single LED below each switch, the base of the board is coated in a thin translucent white plastic layer. This means that when the LED activates it not only illuminates the key cap but also the surrounding area with it.
It's a feature that looks great when used with reactive type mode. As far as negatives go, there's not a great deal that can be said against the Chroma TE, it all comes down to personal preference. Can you handle a tenkeyless keyboard? Can you deal with not having the additional macro keys? And do you really need the audio and USB passthroughs found on its bigger brother? On top of that Razer has still yet  to implement dedicated media keys  across the range, instead sticking with merged F keys and the Fn modifier. Apart from this, the finish, feel and overall build quality of the Chroma TE is fantastic. Enough said.