The recent trend in electronics has been keeping the wires off. That is, manufacturers try an alternative way to connect peripherals other than the usual wires. Not that the wires are less effective but it can sometimes inefficient especially when you're setting your rig in a small space. And for PC user who wanted freedom from wires, a wireless keyboard will get the job done. For such need here are some of the best wireless keyboard in the market today.
Microsoft All-in-One Media Keyboard
There's nothing flash about this keyboard. It's grey, plasticky and functional. But it's also a bargain if you're looking for a wireless keyboard to float between the home office and the living room. That said, you wouldn't want to type a novel on it: the keys lack feedback and are tightly placed. Unlike some, though, Microsoft hasn't cut down the key size so it's easy to hit a respectable pace. The trackpad is massive and supports multi-touch, for easy swiping, scrolling and zooming. If you're not a fan of the left/right click buttons being built in – you always have to check where you're hitting them–but it's not a big issue. Best of all, the spill-resistant design means liquids stay on the surface rather than seeping in.


Logitech K480 Bluetooth Multi-Device Keyboard
Take three Bluetooth keyboards in to the study? Not if you buy the K480, which can pair with up to three devices at any one time: a dial at the top left lets you select 1, 2 or 3, and then you can flip between your PC, phone and tablet. That's not the end of its skills, either. It can hold a phone and tablet simultaneously via its generous integrated cradle, should you wish to. The keys have an odd, round design. This gives the K480 a Fisher-Price feel and it's not the most sophisticated when it comes to the overall "typing experience". There's not much tactile feedback–novelists need not apply–and little travel. And note that it weighs a hefty 820g, so isn't designed for life in a bag. Nevertheless, this is a versatile keyboard that can, in particular, turn your tablet into a proper little computer. And it does that very well.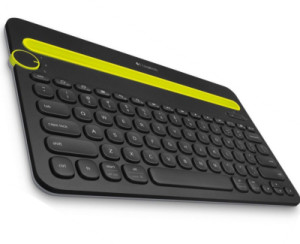 Microsoft Wedge Mobile Keyboard
Not a millimeter of this keyboard's 300mm width is wasted, with full-sized keys helping you hit similar speeds to a "proper" keyboard. The only real compromise is the tiny cursor keys, with Microsoft even finding space for shortcuts such as charms and settings. It's powered by two AAA batteries, which slot in to the eponymous plastic "wedge"on the keyboard's underside. It's a bit irritating in the bag, but helps provide a natural typing angle. The plastic cover also doubles as a stand for your mobile device. It has some heft, easily supporting a tablet's weight, and can be used with most devices via Bluetooth. The Microsoft Wedge Mobile Keyboard isn't cheap,but is perfect for life on the move.

Logitech Wireless Combo Mk520
This is actually a set. The package comes with a keyboard a mouse. This combo comes with a sleek full-size wireless keyboard with softly rounded keys for ultimate typing comfort. It has contoured invisible optical mouse that tracks on just about any surface, with rubber grips and smooth, accurate cursor control. Often, the main concern with wireless option is the battery requirement. Fortunately this combo sips very little juice from the battery requiring battery changes up to every three years for the keyboard and eighteen months for the mouse. It requires just one tiny, yet powerful, 2.4 GHz wireless Logitech Unifying receiver so you can save one USB port from your PC.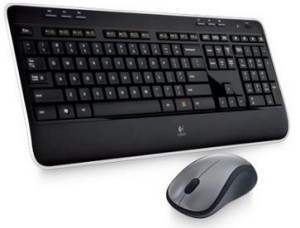 Anker CB310
This is another keyboard-mouse combo.  It comes with sleek keyboard profile and ergonomic palm rest. It has independent multimedia keys specifically for Windows for easy and quick media control. Accidents do happen, fortunately the CB310 has spill-resistant design that can handle the unplanned coffee or beverage spills giving you a worry-free snack times.  Its 2-in-1 nano receiver unifies the mouse and keyboard connections into one USB port maximizing your ports for other uses.   And in order to save power, it has power-saving feature that goes on after 15 minutes of idling. For that, the single AA battery for the keyboard and one AAA battery for the mouse can keep up for a very long time.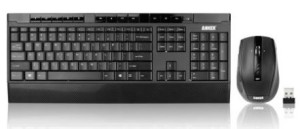 HP Wireless Elite Keyboard v2 
Freedom from wires has been stepped up by this keyboard. Our next entry on the list of best wireless keyboard is HP Wireless Elite Keyboard v2. Its 2.4GHz wireless connection gives you the liberty to move up to 30ft (10m) away and still type. Not that you need it often but it is quite a useful feature to have. It features a modern design through its ultra-slim shape making it look sleek and sophisticated. Its low-profile, scissor-style keycaps makes typing feel amazing and are extra responsive and pleasing to the touch as well. It comes with exclusive HP Link-5 that enables a single a single receiver to take up for up to five accessories. Additional keys like hot keys, volume up & down, mute, Internet launch and sleep mode are right there at your fingertips for overall convenience.

Fellowes Microban Slimline Cordless Keyboard/Mouse Combo
What separates this keyboard from the usual choices is its Microban antimicrobial protection that keeps product cleaner. It comes with 2.4Ghz wireless technology for cordless capability up to 15 feet. It features multimedia keys, including quick launch buttons for Word & Excel so you'll have an easier time looking the things you need. It is 60% thinner than standard keyboards so storing it won't be much of problem. As this is combo, it comes with cordless mouse that has 3rd button/scroll capability and a 600-dpi optical readability.  It is plug & play compliant so you won't be needing much installing before you can use it.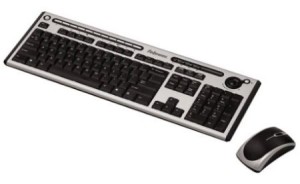 Logitech K800
And our final entry to our best wireless keyboard list is Logitech's K800. When you need to get going even when the light turns off, this keyboard could be your best friend. Featuring a brightly backlit keys with illuminated characters, you can easily type even in the dark. Its PerfectStroke key system makes every keystroke comfortable, fluid and quiet for a perfect ergonomics. With its powerful 2.4 GHz Unifying receiver wireless connection, it can connect multiple compatibles devices without needing to swap receivers. And when you need it, you can recharge quickly with the included universal micro-USB cable for a worry-free operation. It's plug and play compliant with Windows OS so you can be up and running in no time.