MSI has good reputation with reliability. Although it may not be popular as the other brands, MSI do have good amount of selection to meet the requirements of their customers. The computing need of each person varies. There are those that needs casual web browsing which doesn't need much power and there's gaming which needs an entirely, higher-end computers. This is where this list of best MSI gaming laptops comes from and will surely fit the needs of modern, power-hungry games. Among the MSI laptops, these are among the ones that will suit the gamer's requirements.

GT60 2OC-022US
Powering this system is Intel® Core™ i7-4700MQ Processor which can make things, such as gaming, a walk in the park. More than just delivering power when it's needed, this processor is enough to make multitasking a simple venture. A huge 8GB DDR3L 1600MHz System Memory keeps things tidy and will fit modern games' requirement without a doubt. NVIDIA® GeForce® GTX 770M with 3GB of GDDR5 in it may be an overkill for a laptop but for a gaming system, this is quite an appropriate feat. It has enough storage space of 1 TB topped with 15.6″ Full HD Anti-Reflective Display that delivers crisp images for gaming to casual browsing or anything in between. And with its backlit keyboard, you can go on even when the lights go out.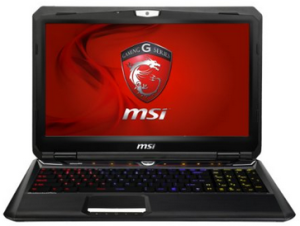 GT70 0ND-444US
Another contender powered by Intel i7.  Intel® Core™ i7-3630QM Processor powers this system. The display is managed by NVIDIA® GeForce® GTX 675M with 2G GDDR5 of available display RAM. It is supported by Exclusive TDE GPU Overclocking Technology, you can be sure that it is never a sluggish system.  System memory is more than enough with its 12GB DDR3, clocked at 1600MHz. Your games can be safely banked in its 750GB Hard Drive so you do not have to bring external drives on those out-of-the-house encounters. It has backlit keyboard which is efficient. And to keeps things cooler, MSI Cooler Boost Technology it there to help. An audio system courtesy of World-Class Dynaudio Premium Speakers is something that can spice up your gaming experience. Couple that with a Blu-ray Disc Reader and you surely have a winner at your hand.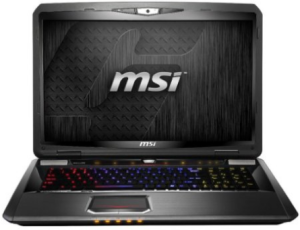 GX70 3BE-007US
One of the few AMD systems, this unit hits the right spot. Powering it is AMD A10-5750 Processor. Though it may not sound much, it is actually designed to fit the needs of high speed processing. Graphics is done by AMD Radeon™ HD 8970M 2GB GDDR5 which is enough for modern programs and games to put it lightly. 8GB, DDR3, 1600MHz system memory keeps everything in check while making the display as vivid as possible with its large  17.3″ Full HD Anti-Reflective Display. 750GB will keep your favorite games at hand all the time and because of its backlit keyboard, you can go on for late-night gaming marathons.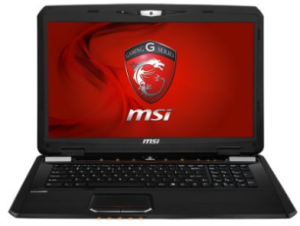 GT70 0ND-492US
i7 is making things a lot easier these days. This last entry on our list of best MSI gaming laptops is powered by Intel® Core™ i7-3630QM Processor. NVIDIA® GeForce® GTX 675MX with 4GB worth of GDDR5 VRAM takes care of the display. If that may not be enough, this system do have 16GB DDR3 RAM clocked at 1600MHz so you don't have to bother a thing. Storage is well capable as it is catered by the duo of 128GB SSD and 750GB Hard Drive. It's safe to say that it is well capable of handling your gaming needs. Blu-ray Disc Reader comes standard with World-Class Dynaudio Premium Speakers. MSI Cooler Boost Technology makes things a lot better as well. With its huge 17.3″ Full HD Anti-Reflective Display, you'll never miss a thing.