Apple has built for itself a very strong reputation for building desirable, high quality notebooks and its notebooks consistently rank among the highest in terms of customer satisfaction. But with a lot of options out there, one often asked: Which Macbook should I Buy? By reading the article below, you might find the answer that you are looking for.
The All-new Macbook
The all-new MacBook is a completely different animal to the one that was phased out four years ago. That MacBook came in a white polycarbonate body was designed to be Apple's entry-level model. The new MacBook, on the other hand, is available in space grey, silver and gold, and is Apple's most portable notebook ever.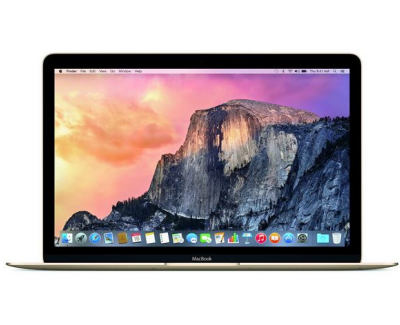 Design
The new MacBook has a 12-inch Retina display that puts out 2,304 x 1,440 pixels and features a tapered design like the MacBook Air. It measures 13.2mm at its thickest point and 3.2mm at its thinnest. It also weighs a mere 920g. One of the reasons why the MacBook is so thin is because it is driven by one of Intel's new Core M processors. These ultra-low power processors require no active cooling, allowing manufactures to design ultra-thin fan-less chassis that are sleeker than anything before.
Specs
For the MacBook, Apple is offering two off the-shelf configurations, with the differences being the processor and storage capacity. Both models will be equipped with 8GB of 1,600MHz LPDDR3 RAM. The entry-level model is powered by the Intel Core M-5Y31 processor (1.1GHz, 3MB L3 cache) and has 256GB of storage, whereas the more powerful model gets Intel's Core M-5Y51 processor (1.2GHz, 4MB L3 cache) and 512GB of storage. Despite the low power processor, performance was adequate for the most part, and much of this can be attributed to the speedy SSDs in the MacBook. Like the refreshed 13-inch MacBook Pro and MacBook Air, the SSDs in the MacBook utilize four PCIe lanes instead of the more common two for improved storage performance. On top of that, the drives in the MacBook also support the newer NVME interface.
Features
To achieve the MacBook's slim dimensions, Apple has had to re-engineer many important components. The keyboard, for example, uses a special butterfly switch that is considerably thinner than traditional switches. In fact, the new switch is so thin that the keycaps sits almost flushed against the chassis. Along with the keyboard, the MacBook also gets Apple's new Force Touch trackpad. This new trackpad does away with physical buttons and instead uses sensors and magnets to trigger a haptic feedback when you click. On top of that, the Force Touch trackpad also introduces a new way of interacting with your Mac called Force Click. And because the MacBook is so thin, there's no room for even standard USB ports, so Apple uses single USB Type-C port for data, video and even power. Due to lack of compatible devices for this new port type at the moment, you'll have to rely on hubs and adapters for existing devices. The alternative is to go completely wireless. Fortunately, the MacBook supports 802.11ac Wi-Fi with speeds up to 867Mbps.
Macbook Air
If there was ever a notebook that could claim to be iconic, it would have to be the MacBook Air. Who can forget the instance Steve Jobs pulled the MacBook Air out of an envelope? That was seven years ago, and although the design of the MacBook Air hasn't changed much and still remains relatively attractive, even the Air is looking a little chubby.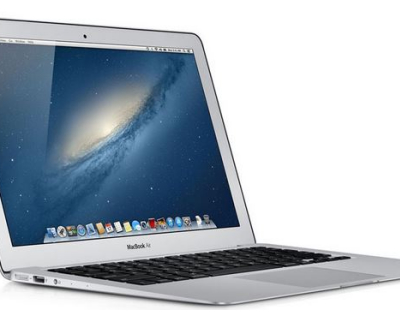 Design
At the present, the MacBook Air measures 17mm and its thickest point and this tapers down to an incredible 3mm. It also weighs 1.35kg, all of which means that one can hardly call the MacBook Air clunky. However, it can no longer claim to be the slimmest or the lightest notebook around. Under the hood, the MacBook Air has received substantial upgrades in the form of Intel's newest fifth generation "Broadwell" processors. Broadwell is the codename for Intel's 14-nm shrink of its Haswell architecture and is claimed to bring about significant gains in performance and power.
Specs
Apple is offering two off-the-shelf variants of the MacBook Air and both will be powered by the same Intel Core i5-5250U processor (1.6GHz, 3MB L3 cache) with Intel HD Graphics 6000 integrated GPUs. Both models will also get 4GB of 1600MHz LPDDR3 RAM (upgradable to 8GB) and will differ only in their storage capacities – users can choose from 128GB or 256GB. Speaking of storage, the new MacBook Air gets upgraded PCIe-based SSDs that now use four PCIe lanes instead of two for even faster storage performance. In terms of connectivity, the MacBook Air has a single Thunderbolt port that supports the newer Thunderbolt 2.0 standard, two USB 3.0 ports and an SDXC card reader.
Features
The MacBook Air has supported the wireless 802.11ac standard since 2013 and the latest model is no different. It offers data transfer rates of up to 867Mbps with a compatible 802.11ac router. The most disappointing aspect of the MacBook Air is its display, because it is still the same TN panel that puts out a resolution of 1,440 x 900 pixels. This is a little sad by modern standards because there's no shortage of competing notebooks with higher quality IPS panels and also higher resolution displays. For example, Lenovo's Yoga 3 Pro and Dell's XPS 13 are both 13-inch notebooks with QHD+ displays that output a resolution of 3,200 x 1,800 pixels, which means more than four times the pixels. If it's any consolation, the display is still pretty crisp and the viewing angles and colors are still good and amongst the best in the business.
Macbook Pro with Retina Display
Like the MacBook Air, the MacBook Pro's design is getting a little stale and it's high time for a visual refresh.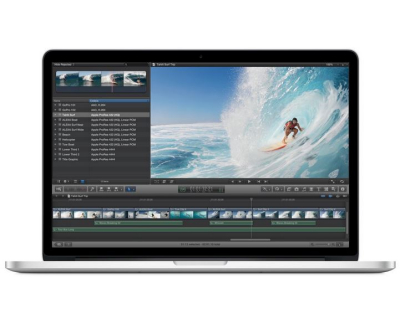 Design
Fortunately, build quality remains impeccable, and at just 18mm thick and weighing less than 1.6kg, the MacBook Pro is actually quite decently sized considering the hardware it packs. The MacBook Pro's Retina display has a resolution of 2,560 x 1,600 pixels, giving it a pixel density count of 227 pixels per inch. While it is outclassed by notebooks with QHD+ displays, Apple can still boast of better display optimization than its current Windows counterparts. And with pixel counts at such high numbers, most people will be hard pressed to tell the difference, unless you press up right next to the screen. Like the MacBook Air, the MacBook Pro is powered by Intel "Broadwell" processors.
Specs
Apple is offering three off-the-shelf variants of the MacBook Pro and they differ by processors and capacity. Users can choose from either the Intel Core i5-5257U processor (2.7GHz, 3MB L3 cache) or the slightly more powerful Core i5-5287U processor (2.9GHz, 3MB L3 cache). Both processors' graphics duties are handled by Intel's new Iris Graphics 6100 integrated GPU. All models will also get 8GB of 1,866MHz LPDDR3 RAM as standard, and users can choose from 128GB, 256GB or 512GB of storage. Like the MacBook Air, the MacBook Pro's PCIe-based SSDs will use four PCIe lanes instead of two, enabling better storage performance.
Features
Other improvements pertain to battery life. Battery capacity has been increased slightly from 74.9Wh from 71.8Wh – staggering for a notebook of its size – and this coupled with the more efficient Broadwell processor means that claimed battery life is up one hour to an impressive 10 hours. Connectivity remains unchanged so the latest 13-inch MacBook Pro still gets two USB 3.0 ports and two Thunderbolt 2 ports as well as a single HDMI port and an SDXC card reader. 802.11ac of up to three spatial streams is supported so a maximum speed of 1300Mbps is possible if you have the right router. One of the biggest updates to the MacBook Pro is the new Force Touch trackpad. Unlike traditional trackpads, the Force Touch trackpad does not have physical buttons and actually features sensors which detect your inputs and triggers electromagnets underneath the trackpad to vibrate the sheet of glass that is the trackpad. This vibration generates a haptic feedback that leads you into thinking that it is a click. This new trackpad also opens up a new way of interaction call Force Click, which can be triggered by a firm click and can be used to do contextual tasks. For example, force clicking on a word can quickly show the definition of it, or when browsing, one could force click on a link to preview them.
Conclusion
Apple's current lineup of portable notebooks in the 13-inch space is arguably its strongest yet and each model has its own strengths and weaknesses, which also means to say that there is something out there for everybody. With the reviews of Apple MAcbooks above, you definitely have a definite answer to the question: Which Macbook should I Buy?