This is an era for ultrabooks. This computing category was established just few years back. Fortunately the market looked deeper in it and found there are wonderful things about it other than its slim profile. At such many people are looking into it making it an important segment these days. One good competitor for it is the Acer S7 which offers a good balance of computing and size. But before you grab one, check out some of these Acer Aspire S7 review.

 Acer Aspire S7-392-9890
This unit comes with Intel Core i7-4500U 1.8 GHz with 3 MB Cache which is a good match for mobile computing needs. Huge amount of RAM space at 8 GB will keep everything tidy for your applications. And when stability and longevity is needed, as solid state drive is all you need. With that the 392-9890 comes with a 256-GB solid-state drive. The 13.3 –inch touchscreen is more than capable of handling your needs. The battery is astounding which can easily net for up to 7 hours or more. This could be a good travel buddy.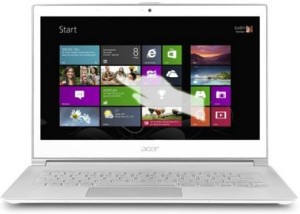 Acer Aspire S7-391-6812
Just a little bit lesser that the 392-9890 is the 391-6812. This one comes with Intel Core i5 3337U 1.8 GHz with the same level of cache memory at 3MB. Its 4-GB RAM is enough for its factory installed OS, Windows 8. Intel HD graphics takes care of the 13.3-inch touch-sensitive display and comes with good quality. The 256-GB worth of solid-state drive can give lesser errors when travelling and of course it is as well matched with a battery which can go for up to 6 hours of regular use on a single charge.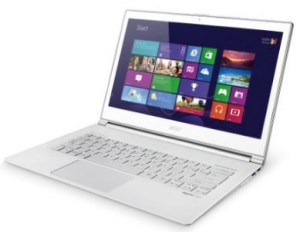 Acer Aspire S7-392-6832
Next on our Acer Aspire S7 review is the S7-392-6832, with Intel Core i5-4200U pegged at 1.8 GHz, you can expect good amount of speed all the way. This laptop is supported by huge amount of RAM at 8 GB.  Of course as this is an ultrabook, a solid state drive comes as standard which has a space of 128 GB, adequate for computing on-the-go. And while Windows 8 keeps all things efficiently, the battery keeps things in an on-state for at least 7 hours of use. This makes S7-392-6832 a lesser but nonetheless a good alternative than its pricier brothers.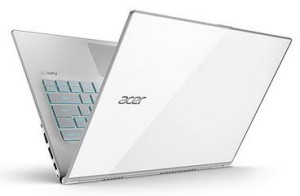 Acer Aspire S7-191-6400  
and lastly,  Acer Aspire S7-191-6400 completes our list of  Acer Aspire S7 review. This is the junior version of the S7. This unit do have smaller screen at 11.6″. Still, it supports full HD widescreen through CineCrystal LED-backlit display protected by Gorilla Glass 2 over. This system is feather light that comes at 2.29 lbs. The ultra-thin, premium aluminum unibody design with Light-sensing backlit keyboard is very ideal for frequent fliers. Intel Core i5-3317U 1.8 GHz powers it. It comes with 4 GB DDR3 RAM and 128 GB Solid-State drive making it a perfect mobile device.It can go up to 5-hours on a single charge alone with its 4-cell battery. And for those who wanted more, it can go up to 9.5-hours on single charge with 4-cell battery & 2nd battery which could make travelling less stressful, that is if you're willing to carry an additional .4 lbs.