Some people wanted a laptop that can do normal, everyday task while still offering a robust gaming performance. But often these machines are way above most people's budget range. The main reason, of course, is the components used to achieve that superb performance thus raising the price. But then things have changed a bit these days which favors consumers. That's the case with ASUS K501UW-AB78. This laptop presents a good performance while still having a very reachable price. Let's now check the tiny bits that make up the whole package.
A Sleek Gaming Laptop
Build quality is important when you wanted a lasting performance. Often times, performance machines are mated to some known color-scheme, black-red combo for one, which really shouts, well, performance. These things make up for that front which separates the everyday guys from the gaming scenes. But then ASUS opted not to include a bit of detail that gives you the idea that the K501UW-AB78 is real gaming rig. For one it has grey exterior that many people would not associate with serious gaming rigs. Yes, this laptop has minimalist approach in term of design.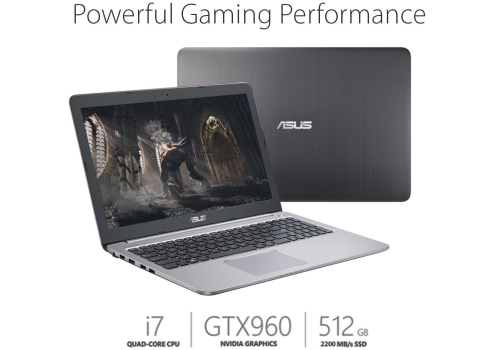 But mind you, this is a sleek looking device. The built quality is on par with machines twice its price. Opening and closing the lids feel very robust and does not come with those plasticky creaks that often come from cheaper ones. No, it doesn't have a lighted or red printed logo instead there's just that lone "ASUS" logo that you can see on the lid and nothing more. Dimensions' wise, it measures 0.8 by 15.6 by 10 inches. It weighs approximately 4.4 pounds making it quite portable, though it's verging on the heavy side by today's standard. It's also worth noting that this laptop has a backlit-Chiclet keyboard which feels good enough to carry on with everyday tasks.
Performance Efficient
One thing that really separates the wolves from the lambs, in computing world, is the performance. This ASUS K501UW-AB78 is fitted with a sixth-generation Intel Core i7-6500U clocking 2.5GHz, capable of up to 3.1GHz through Intel's Turbo technology.  And to further up the performance, a dedicated graphics is a must.  This machine features NVIDIA GeForce GTX 960M gaming graphics card that is more that is capable of handling your everyday grind. It has an 8GB of RAM which is very much sufficient for its Windows 10 OS. Also, this system has 2 GB of graphics memory. Yup, it's not the best out there but it can handle a lot of tedious tasks before it starts to lag.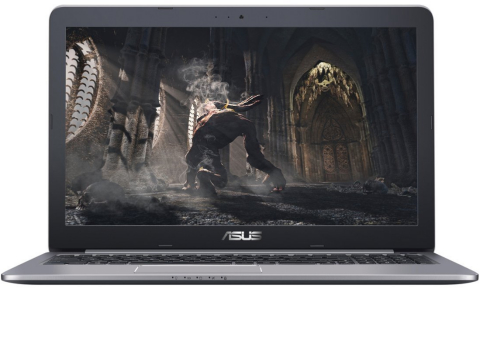 As this system sports a dual core processor, it can pretty much deliver performance on anything thrown at it. Tests show that the CPU/GPU combo can handle frame rates of 50 frames per second on a popular game GTA-V.  All of these were possible with the default 1920×1080 resolution. Playing HD videos for hours perfectly went well. Battery life of performance machines is almost synonymous to worst. In the case of K501UW-AB78 it translated to 5 hours and 10 minutes. That may be on the low side compared to modern standards but you kind of expect it from performance-oriented computers. By the way, storage duties are done by its 512GB SSD. This translates to faster read-and-write cycle which perfectly complements the already capable system combo.
ASUS SonicMaster technology
Good sound quality is a perfect topping to good performance. And fortunately ASUS did not skip this step. The speakers may not look much but it is backed by ASUS SonicMaster technology. These results to superb sound quality with good bass coupled with just the right amount of high and middle tones. What's even better is that even when you crank the volume to maximum, the sound quality doesn't stutter.
The Display
This ASUS features a 15.6-inch screen with a matte, full HD display. It's clearly not the best out there but it gets the job done right. Okay, some gamers might actually prefer better screens, this one is pretty basic. But this screen here offers just the right amount of colors and brightness for that 90% of the tasks thrown on its way. It's not very vivid but with ASUS Splendid Technology, the images have that enhanced results with vibrant colors and deeper contrast mimicking IPS panels.
Dual fan cooling System
As with any power-hungry devices, K501UW-AB78 will emit a lot of heat. This will not help the system at all. Heat will only make the system slower and laggy. And in order to cope up with this problem, ASUS equipped the system with two dedicated fans.  It's a common practice for years to have a single fan cooling both the GPU and the CPU. While this works, it's not the most efficient in the long run.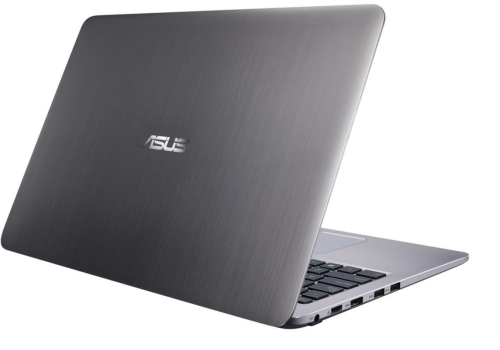 The dual fan setup in this ASUS has separate fans, one for the CPU and one for the GPU. This enables the system to deliver efficient heating dissipation even after hours of heavy use. And maybe because of this dual fan system consuming more space, this laptop does not have an optical drive. You can as well say it's just a thing about cutting some expenses on the side thus lowering the price.
Learn what others have to say to ASUS K501UW-AB78

Other small details you need to note are the 2 USB 2.0 and 2 USB 3.0. There's a standard Headphone-out & Audio-in Combo Jack as well and an RJ45 LAN Jack for LAN. There's 1 HDMI and 1 Card reader on board also. Wi-Fi technology that came with the system is in the form of 802.11ac.