Having a performance laptop is good tool when you have to deal with tough jobs like video or photo editing. This will ensure you can have a jitter-free experience which can spell fewer frustrations. But these sorts of computers are coupled by a hefty price tag. But there are some options out there that kind of sliced-off some performance oriented-stuff but still able to offer very high-quality performance when you need it. One of such option is Dell Inspiron i7559-2512BLK. It boasts lots of performance and some more.
High-quality Build
Most often, when you see a performance laptop, you will likely to get high quality components as well. And these will add to the price keeping some consumers looking for other options. But this Dell Inspiron i7559-2512BLK features a lot of quality material all around that will make you think it's actually priced higher. Well, it has plastic all-around, it doesn't have metal surface externally. But the thing is, it has nice robust look and feel all over. As you would expect from plastic trims, flex is thing. This one though has enough robustness that makes you feel it has premium components put into it. There's that backlit keyboard. At this performance level and price range, you can seldom find an option that offers it. It has white backlight which kind of deviate from the usual red and orange but it works and, depending on your taste, white light seems to work better in the dark.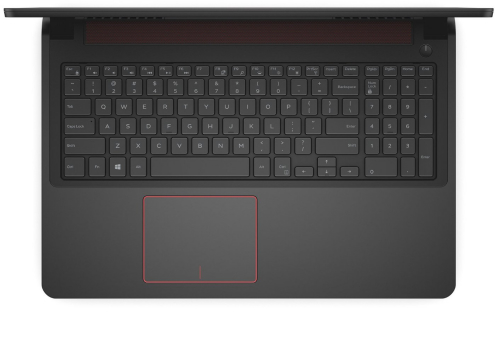 The overall exterior sports entirely black plastic. To accentuate the whole package, it has some red highlights on the Dell logo found on the lid, around the touchpad, speaker, fan vents, and even on the rubber stands. These small stuffs kind of make the whole package seriously for gamers. It doesn't add anything to the performance but it's very pleasing to the eyes. Also, the top lid and the keyboard deck features rubber trim which further elevates the exterior. Those red-colored vents at the back look gorgeous as well.
One thing that you have to note is the fact that this machine doesn't have an optical drive. This might limit your options when playing games like when you need to install from a CD or DVD, or movies. But hey, how many games does exclusively install from optical drives these days anyway? In the advent of faster internet connectivity, most games can be downloaded straight from websites thus lessening the negative impact. Dell might opted not include an optical drive to leave some space for better heat dissipation. Also, this move might be a way to lessen, even for a little, the price of the system.
Gaming-level Performance
Now, this is the main selling point of Inspiron i7559-2512BLK. Backed by Intel Quad Core i7-6700HQ 2.6 GHz Processor, this laptop brings up a very snappy operation. This also means that you can throw a lot of abuse to this system before it gets quite frustrating. Also, it has NVIDIA GeForce GTX 960M in it. Not only that, it has a 4GB dedicated VRAM with GDDR5 technology. Topped with an 8GB RAM, this system can take a lot of beating. Those games you might have in mind will play gorgeously. Take for instance GTA5. This should play smoothly up to 50FPS. Testing out Withcer3 only captured around 30FPS. These might not be very exciting for some folks but 95% of users only needed this kind of level and with the price point, this machine is really a bargain.
For storage, Dell Inspiron i7559-2512BLK  uses 1 TB HDD + 8 GB SSD Hybrid Drive. The 8 GB SSD is quite a bonus considering you get 1 TB of HDD. But you may find the 5400 rpm unit quite a bottle neck in this system. This might be another step down in order to come up with a nice price tag. Most of the caching will be stored through its 8 GB SSD to make things snappier. But again, 90% of the time, that 5400 rpm is enough to cope up with the overall performance. Also, those speakers give out a nice sound quality but they may sound very tiny when you try maxing out the volume.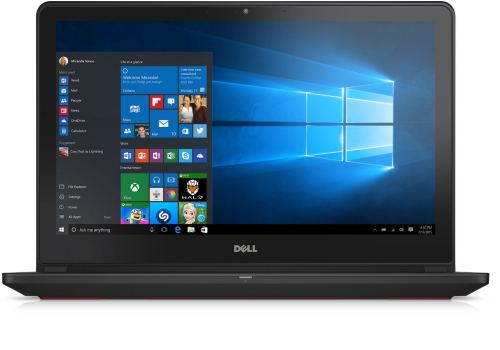 Gorgeous Display
The display that comes with Inspiron i7559-2512BLK is in the form of 15.6-inch Full HD with 1,920-by-1,080 resolution. Good news is that it comes with an anti-glare coating that helps cut reflections to minimum. For serious gamers, this is an important aspect as glare can actually make the eyes feel tired in no time. If you've been looking closely, the 1080p resolution is becoming a "standard" for gaming machines, even for some powerful, pricier options. And yes, some gaming laptops already have 3K or higher displays. But if you check the overall capacity of this machine, this screen resolution offers a well-balanced performance since the hardware will surely struggle playing with high settings through those higher-resolution displays.
Dual-fan Cooling
As performance equates to more power consumption, it surely will result to more heat. This will worsen if the system faces a challenging task. If not taken into account during the design phase, this will end into a disaster. At such Dell has designed the heating and ventilation of Inspiron i7559-2512BLK with dual fan system. These two cooling fans direct the heat through three exhausts with large vents. It as well has 240 thermal fins ensuring that heat is dissipated very efficiently.  One word to describe this approach: it works well. This spells of a cooler experience even while pushing yourself and the computer to the limits.
Maintenance and upgrade friendly
Most folks don't care much about this feature but if you're among the few who wanted to keep things in check or simply wanted some future upgrade, having a single screw to open the cover is an amazing addition. And yes, this laptop only requires you to unscrew that one screw that holds it all together. Upon opening you can have access to the hard drive, the 8GB SSD, the RAM and the battery. The battery part will surely raise some eye brows but you probably won't need to access it every day, fortunately. Unscrewing that single lock will not take much effort anyway.
Other things you might want to know are there are three USB 3.0 ports, a headphone jack, an HDMI port, a 2-in-1 SD card reader, an Ethernet port, and a Kensington lock slot. The i7559-2512BLK lasted over 5 hours in a single charge with a heavy use. Dimensions stands at 15.08 x 15.08 x 10.43 in. It weighs 4.6 lbs. leaving it quite at a heavier side of overall portability.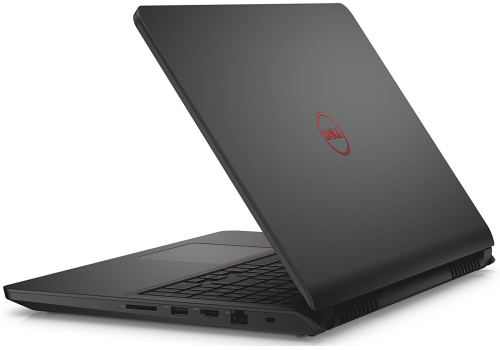 What others say about Dell Inspiron i7559-2512BLK

The Verdict
Portability aside, the Dell Inspiron i7559-2512BLK is definitely worth every single bucks. Be it gaming, browsing or graphics demanding tasks such as video editing or graphic designing this laptop can certainly provide what you need.