Asus ROG is a known branding from the company that caters to gamers. This laptop line offers not just good design but also machines that offers seriously, near-perfection performance. The ROG lines offer great display, way above average performance and tough designs. Even these days where numerous alternatives comes, ROG still awes the gaming community. One example for such machines is the Asus ROG GL502VM-DB71. If you've been eyeing for this laptop, here's some important point you need to look at.
Designed for Serious Gamers
With gamers in mind, Asus did not scrimp on it's the specifications of ROG GL502VM-DB71. Oh yes, it sports the 6th generation Intel Skylake Core i7 processor clocked at 2.6GHz. This fact alone assures you that this machine packs a lot of punch when it comes to hardcore performance. And while you're enjoying game, there will be times that the system lags. One reason for this is RAM space available. This GL502VM-DB71 is with 16GB RAM with DDR4 technology. If it still seems lacking, it supports up to 24GB through its four DDR4 slots. Mind you, you will have to load a lot of multitasking efforts to exhaust all the 16GB in one go. To put into perspective, opening multiple documents and multiple tabs, let's say 20, in your web browser will still work in a 2GB RAM.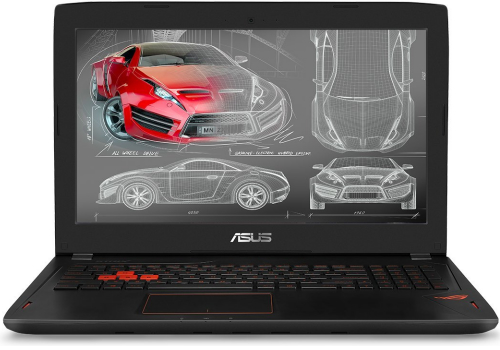 Asus ROG GL502VM-DB71 comes preinstalled with windows 10 64-bit. This OS only requires a minimum of 2 GB to make it work smoothly. At such, 16GB will give you a lot of extra space for all your needs. If you wanted to push this laptop even further, you will surely not be disappointed as the NVIDIA GeForce GTX 1060 graphics does its job very effectively. It also comes with 6GB VRAM, with all its GDDR5 goodness that makes sure you have an incredible experience. This machine is more than enough for your daily needs.
Good Heat Ventilation
One thing to note about gaming rigs is the fact that it requires a lot of power. And power equates to heat. Put the whole system into a cramped laptop package and you have a huge problem with heat management. At such, many manufacturers have tried to create heat sinks that can do the job efficiently while not being too obtrusive with the overall design of the laptop. ROG GL502VM-DB71 sports red-colored heat sink fins. Those fins are not just there for shows but also gives you the idea how much heat it emits. This machine features Asus' Hyper Cool Duo-Copper cooling system which utilizes heat pipes and dual fan system that cool the CPU and GPU independently. This results to better heat dissipation even when you plan a whole day of non-stop gaming. But be mindful though. With the heat sink being this efficient and the heat produced by the system, it results a very hot escaping air. Fortunately the vents were placed at the back keeping you away from unnecessary discomfort. On the bright side, you can use it as a substitute to keep your coffee hot.
Not your Average Display
Some laptops that were designed to cater portability and performance compromise more on the portability side. This result to average display prowess which then limits the capacity of the system. Asus ROG GL502VM-DB71 did the other way around. As it promised performance, it made sure graphics duties are well taken care of. As mentioned above this system features NVIDIA GeForce GTX 1060 with 6GB of VRAM. These things takes up space and requires more power from the battery and results to more heat. With that in mind, the overall design of the chassis must accommodate additional components and fan. But the results were fantastic. The above-mentioned GPU projects through its 15-inch G-SYNC panel with wide 160° viewing angles. This screen has 1920×1080 pixels and the results are vivid colors with the right amount of brightness every time. Still, the overall package is very much portable at 0.94 inches thick and 4.8 pounds. Battery life averaged at around 2.5 hours.
Full Blast Audio
While you're enjoying your games or videos, it would be way better if you have the right kind of audio to keep things very real. The sleek ROG GL502VM-DB71 features built-in speakers that are positioned so that you can make the most out of your audible gaming experience. How was this possible? According to Asus they employed multiple microphones that were designed to filter out ambient noise. This meant that even you're at every buzzy environment with some loud sounds all around you, the sounds from those tiny looking speakers can still be delivered with the right amount of punch. And the design works: every sound frequency can be heard clearly.
Exterior and Overall Build Quality
It's a common thing for gaming laptops to feature red and black combination. But this GL502VM opted for orange trim accents around its black paint job. But even though the orange accents are prominent, Asus have chosen red keyboard backlighting. It will look out of place at first but after some time, it will eventually grow in you, it kind of blends in your eyes. Also, Asus is pretty clear with its design cues for ROG GL502VM representing an attractive and aggressive exterior. Let's not forget the brushed aluminum screen lids.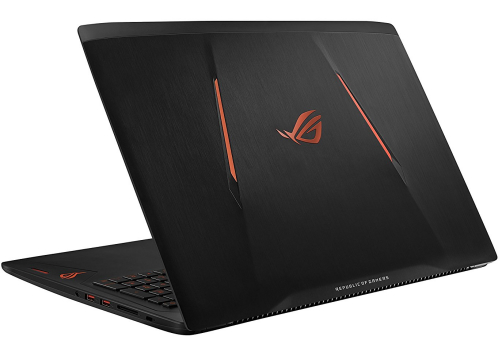 Learn what others have to say to Asus ROG GL502VM-DB71

These are fairly common on gaming laptops these days, nothing very special having it really. Still, Asus made the ROG GL502VM-DB71 stands out by placing an extra flat edge stamped with the" Republic of Gamers" tagline to emphasize its gaming-focused approach. Many folks might feel quite disappointed as the rest of the chassis is made out of plastic. But after a close inspection, you'll be glad that it feels solid comparable to other all-metal machines out there.
The Verdict
Overall, it is pleasing to the eyes and to your touch, it feels very sophisticated. With all the mentioned features, this laptop deserves a good look if you wanted a performance machine.