If you're looking for a powerful and fashionable gaming laptop that comes in a revolutionary design finish like Plasma Copper or Armor Titanium color scheme, then ASUS ROG G752 is your best bet. It comes equipped with Windows 10 Home operating system and Intel Core i7 (latest 6th generation) 6820HK processor together with 16GB DDR4 RAM which is expandable up to 64GB. You can find everything that you ever need to have an exemplary gaming experience like HD webcam together with a dual digital microphone, Blu-ray DVD combo drive, 2 in 1 memory card reader, backlit anti-ghosting keyboard and a touchpad that supports multi-touch gestures.
ASUS ROG G752 Specifications
Specifications of this serious gaming machine are:
Window 10 Home 64 bit OS
1920 x 1080 resolution with 17.3 inches display
Full HD Auto IPS anti-glare display
Wi-Fi and Bluetooth 4.1 connectivity
2 in 1 memory card reader, inbuilt HD webcam and backlit keyboard
Touchpad with Multi-touch Gesture Support
16GB DDR4 RAM with 2133 MHz speed
13 Kg with 416 x 322 x 20-49 mm dimension
Intel Core i7 (6th generation) with 2.7 GHz clock speed
NVIDIA GeForce GTX 980M with built-in Intel HD Graphics 530
SATA hard drive with capacity of 1 TB with 512 GB SSD coupled with 7200 rpm speed
Blu-ray DVD combo
2 Stereo speakers with inbuilt subwoofer powered by Sonic Master sound technology
8 cell battery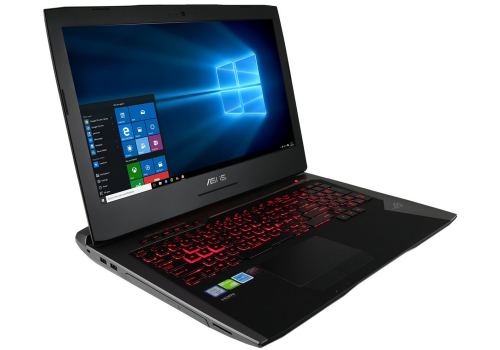 ASUS ROG G752 Design
Though the look of ASUS ROG G752 hasn't changed significantly, the aesthetic now has become much more enticing with the addition of orange highlights to the staple red and artificially brushed metal plastic on its interior. This distinct color combination clearly eludes the power concealed in this gaming machine. The brushed aluminum that covers most of the outside makes G752 a little classier and well-made. The masculine ecstatic red segments together with angular lines on the lid make this laptop stand out from the crowd of other placid gaming notebooks. The rear fan grille with some cool red LEDs placed inside gives it a look much akin to a red-hot exhaust. After lifting the lid, you can find a comparatively less attractive interior that holds parts of the bronze accents and angular design. But when it mixes with the black matte plastic, a jumbled fashion quotient pops out that can be attractive to many consumers.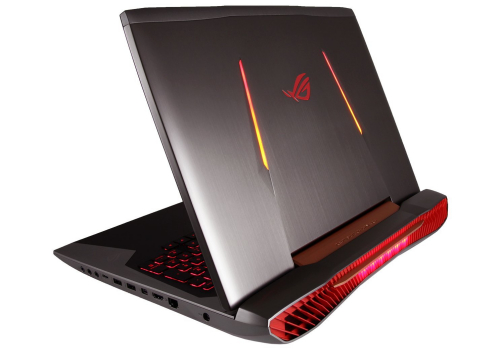 ASUS ROG G752 Keyboard and Touchpad
The amazing, chiclet-style keyboard of this laptop is responsive, very well-placed and comes equipped with ASUS's anti-ghosting keyboard technology. Five programmable macro keys and one dedicated recording key located above the keyboard lets you get speedy access to the in-game preset functions – a highly useful addition for serious gamers. The touchpad of ASUS G752 comes at a size of ultra-book pad, contains beautiful smooth surface and is separately placed from the buttons. The buttons of the touchpad provide pretty deep actions and are big – much like the spacebar.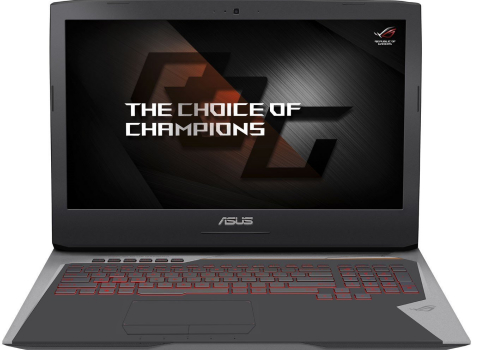 ASUS ROG G752 Screen
Though the matte finish of G752 may make the colors look less powerful compared to a glossy finish, this machine covers 71 percent of Adobe RGB and 104 percent of sRGB color spectrum. Incorporation of excellent calibration with Delta E of only 0.13 makes the shades look like fresh out of the box. No matter whether you use this laptop in the outdoors or in bright rooms, with a highly impressive maximum brightness of 379cd/m together with its matte screen coating, the G752 provides an excellent experience.
It comes equipped with an IPS screen which means from any viewing angle, everything will look simply great. Furthermore, its G-Sync display, which is a hardware substitute of the V sync software, ensures no tearing of graphics when playing games. Unlike V sync that always triggers performance hit, G-Sync utilizes a committed chip that matches the refresh rate of the screen to the GPU's frame, thus making zero performance hit.
ASUS ROG G752 Performance
The G752 is impeccably well-specced and has the ability to pinch the HQ series CPUs that are used by a majority of the gaming laptops. Though 16GB RAM isn't going to be a problem when it comes to gaming, you can easily upgrade this to 32GB with some extra bucks, if you want to. This will cost you much less compared to the same upgradations of some high-end gaming laptops with the same specifications. In this high-end model, you're getting 512GB SSD, which is divided into two parts namely 1TB hard drive and a Blu-ray writer. The SSD is amazingly fast – it 2196MB/s read and 1561MB/s write speed is among the fastest that can be found in any SSD.
The 8GB GDDR5 NVIDIA GeForce GTX is there to provide you with an optimum gaming experience. You can get raw performance out of this machine by stringing some top-notch components together with sweeping the power switch. As ASUS ROG G752 comes with a great cooling system, it doesn't allow the machine to heat up a lot. The pair of low rpm, large fans kick out the air through the large outlets. The internal speakers do well with the fan when gaming. The G752 provides adequate power for driving even the most taxing games at 1080p resolution.
The NVIDIA GeForce GTX 970M coupled with 3GB video memory helps to experience a smooth sailing through high-resolution effects, textures and other graphical whistles and bells. You can seamlessly play fast-paced games like Rocket League at very high or ultra settings while continuing with a steady 60 fps (frames per second).
ASUS ROG G752 Battery Life
The G752 slightly lacks in saving battery power . According to ASUS, an approximate 4 hours of life can be expected with regular usage and 2 hours when performing intensive tasks or gaming. It may sound like a lackluster performance, especially when the laptop comes with an 8-cell battery, but in reality, it's true. Simply put, you should have your G752 tethered to the power socket, particularly when gaming, instead of going anywhere far away from a power source to enjoy this gaming powerhouse.