The MSI GT80 Titan SLI is a monster of a desktop replacement laptop–it could legitimately replace a high-end gaming desktop. With an Intel i7-5700HQ CPU, up to 32 GB of memory, and two Nvidia CTX 980Ms in SLI, this eats other laptops for breakfast.
MSI GT80 Features
That's not even getting to the main selling point of this laptop: an integrated mechanical keyboard with Cherry MX Brown switches. The only disappointing part is the 1080p display–at this level, only a 4k display would be suitable, although it's understandable considering likely no company makes an 18.4-inch 4k display.
Specs aren't the only thing monstrous about this laptop; it has a massive 18.4″ display and weighs 10 pounds. It's imposing, to say the least. The keyboard is the focal point of this laptop. The depth required for mechanical switches means that components can't be placed under it, so the keyboard is at the front of the laptop. If you want a wrist rest for the front mounted keyboard, MSI includes a wrist rest in the box.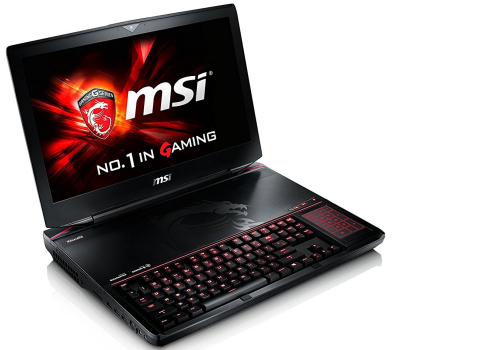 To the right of the keyboard is a portrait oriented trackpad, which can also become a number pad by toggling NumLock. The keyboard is, of course, excellent in use. The trackpad is mediocre, though if you're doing gaming on this you'll probably connect a mouse anyway. The touch number pad works alright too, which for a gaming machine is all that's needed.
The screen is good as well, with excellent color accuracy and 1100:1 contrast ratio. Obviously, such a laptop won't have great battery life, although there is a switch to toggle between integrated graphics and the discrete graphics. Light web browsing on the Intel GPU will allow you 4 hours of battery, which is actually surprising considering laptops like this generally get under two hours.
Cooling is also good, with neither the CPU or GPU going above 75 degrees Celsius. All in all, the MSI GT80 Titan SLI is an amazing computer. It's well-built, insanely fast, and has an integrated mechanical keyboard.
What's Inside MSI GT80?
Inside the laptop, there is a total of 8 heat pipes to dissipate all the heat this thing outputs. The laptop is user serviceable, with the two M.2 SSDs in RAID 0, a 2.5″ drive, the memory, and MXM graphics cards all accessible. There are a plethora of ports for peripherals. On the back, there is an HDMI 1.4 port, two mini DisplayPorts, and an Ethernet RJ45 port, as well as the A/C in.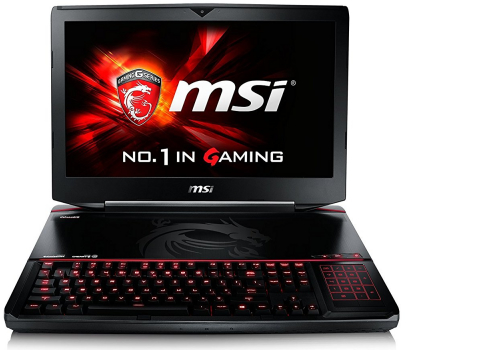 The left side has an SD card reader, three USB 3.0 ports, an SPDIF audio output, and two 3.5mm jacks for headphones and mic, and also has the Blu-Ray burner.
The right side has 2 more USB 3.0 ports. In terms of performance, this laptop is unbeatable except by a desktop computer of the same cost. The i7-5700HQ CPU has a base clock of 2.7GHz and turbos up to 3.5Hz, which is competitive with desktop class CPU speeds; you definitely won't have any CPU bottlenecks while gaming.
The only notebooks that can beat its CPU performance use desktop grade CPUs. On the graphics side, laptops have traditionally always been far behind desktops. However, in recent years, the gap has been rapidly closing, thanks to a focus on power efficiency. In fact, the dual GTX 980Ms in the GT80 Titan match the performance of a desktop GTX 980Ti!
FPS in games were as high as expected, with 141 in Tomb Raider, 130 in Civilization: Beyond Earth, and 121 FPS in Shadow of Mordor on ultra. Basically, you're not going to have any frame rate issues if you're gaming on the laptop's screen. It's a bit unfortunate this laptop doesn't have a 4k screen since it could genuinely run games at 4k resolution. Previous MSI laptops were slower than they could have been because poor cooling caused thermal throttling; one particular model even had only one fan to cool both CPU and GPU.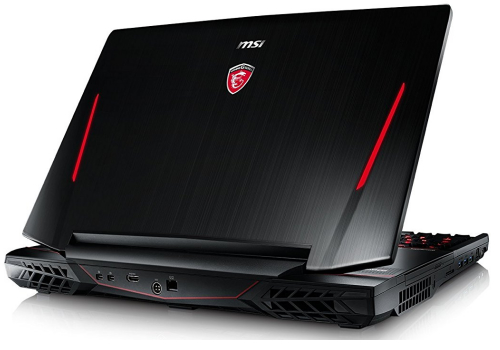 Thankfully, MSI has improved their cooling since then, and thanks to an excellent cooling system, the GT80 Titan won't suffer from excessive thermal throttling. Additionally, thanks to the presence of 2 M.2 SSDs in RAID 0, loading times are nearly non-existent, while a 2.5″ hard drive allows you to store movies and other media in bulk.
Pro:
True Desktop replacement
Simply Amazing Graphics
Easy to upgrade video card, memory, hard drive
Cons:
Short battery life
Heavy
Expensive
Notable: You may have to remortgage your house and have a chiropractor on call, but it's worth it, no graphic setting will stand in your way of gorgeous gaming bliss. Prepare to enjoy your games in the coveted Ultra setting.
Conclusion
If you're in the market for a high-end gaming or a desktop replacement laptop, this is definitely worth considering. Built-in mechanical keyboard, huge storage and memory, and GPU that's very easy to upgrade are only some of its selling point. Is it really a "laptop"? No, it's more like a desktop with a screen that folds over. If you are into laptops and other gadgets, then don't forget to visit technophilesblog. The blog has plenty of articles on latest technology and how it impacts our life.