As many people are prefer to use laptops than full sizes desktops, more and more manufacturers are into making the experience with such machines perfect. Take for instance a heat shield to separate the heat from the users. Another aspect of laptops that really needs a lot of attention is in the ergonomics side. With a desktop, arranging the workstation could be an easy task but with a laptop, you are given with very minimal choices. And when you are using laptops for several hours each day, it's really a good thing to have something to help with ergonomics.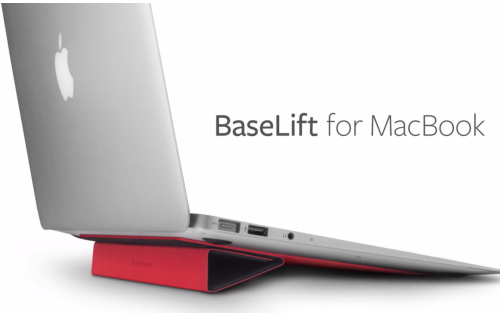 A common way to give your laptop-based "workstation" better ergonomics is with the use laptop stands. This quite simple accessory is a great way to elevate your laptop a bit, some with multiple levels of adjustment, thus making typing a bit more comfortable. But often, these stands are not exactly portable. Recently, a new version of laptop stand made its way into Macs. BaseLift is basically a laptop stand that sticks to the bottom of your MacBook then raises it just a bit to improve the ergonomics of your workstation.
BaseLift works similarly to an iPad Smart Cover. It simply sticks to the bottom of your MacBook which can then be folded to lift your MacBook just slightly higher which generally makes typing less cumbersome for the user. Although it does not elevate as most laptop stands do, it still does the job pretty well.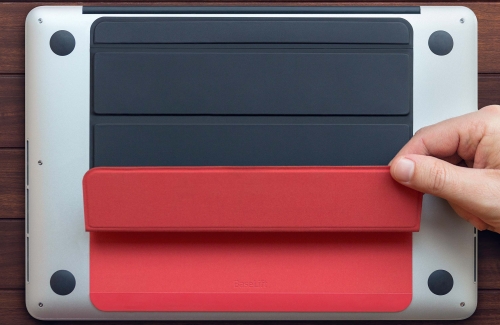 BaseLift works with MacBook models from the smaller 11″ to the 15″. And because it sticks to the bottom of your MacBook, it as well helps to dissipate the heat that comes from heavy usage. The built is quite sturdy as though even if you throw your MacBook around a lot, it could still work just as fine. It weighs 4.2 ounces so your Macbook will really feel heavier with it. But with the advantages that come with it, it shouldn't really be a big deal.