Depending on how important PC sound quality is for you, the best computer speakers under 100 could offer an excellent upgrade from the factory installed audio that your computer came with. Below are some of the Best Computer Speakers under $100
For most gamers, this price range is where the top value picks are most abundant. While they don't match the budget models we see in the $50 and below range, you also get better quality and electronics that are able to produce louder volumes.
Bose Companion 2 Series II Multimedia Speaker System
Bose is a name that is well regarded when it comes to audio electronics. Known for many of their compact sound systems and high end headphones, the Bose Companion 2 Series II can be used not just with your MP3 music players but also with your PC and Mac desktops and laptops. Priced just under $100, they are very simple in design, with only the volume control and headphone jack seen in the front. They are asymmetric in that way because only one of them have the controllers. These are built with quality components and you'll quickly feel that once you take them out of the packaging. At more than 4 pounds, they are sturdier than the low end speakers that feel hollow inside. From the front they have similar dimensions to most PC speakers, but have a long back.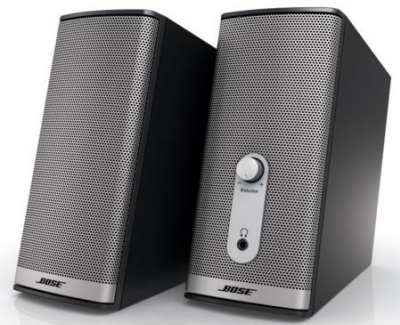 With magnetic shielded casing, you can place them wherever you want and not be afraid that putting them beside your PC monitor or desktop box will interfere with the sound quality. Where this pair excels is the highs and the mids, making them more ideal for those who like listening to classical, pop and jazz. The bass comes out balanced, but not overly rich which could be an issue for those who like to emphasize the beats or booms.
JBL Creature III Self-Powered Multimedia Satellite and Subwoofer System
Not surprisingly this is one of the best-selling computer speakers under $100.Aptly named "Creature" because of its very unique design that's out of this world, you get 3 Darth Vader like looking heads that will surely attract the attention of anyone who's seen them for the first time. Without knowing what they are, your friends probably won't be able to guess what they're used for. That said, these deliver very clear, detailed sound with a good bass from the subwoofer. You'll be able to adjust both treble and bass individually on the left and right knobs. This is one of the features that isn't present in many of the cheap PC speakers. Whether you're interested in playing games, listening to music from your iPod or iTune playlist or on any of the video sharing sites on the web these let you get a richer listening experience from your PC and Mac.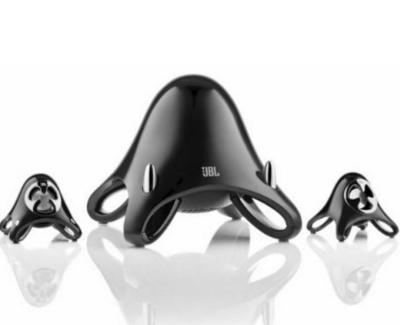 Logitech Speaker System Z323 with Subwoofer
At just a shade over $50, this is the cheapest PC speakers on our list of top rated computer speakers under $100. While Logitech is more known as a manufacturer of computer mice and webcams, it does build a number of audio products including speakers, headphones and even MP3 players. Specially designed to deliver 360 degree sound, you get better overall quality because the satellites both have speakers positioned in front and back of each. Despite being a 3 set system, setup is quite simple and straightforward with the cables going to the rear of the subwoofer. While volume control is very visible in front of one of the satellite units. Both the bass control dial and that auxiliary input connector are positioned behind the subwoofer. This is one of the few issues of the Z323, so make sure that you place the subwoofer somewhere you can reach its back section easily.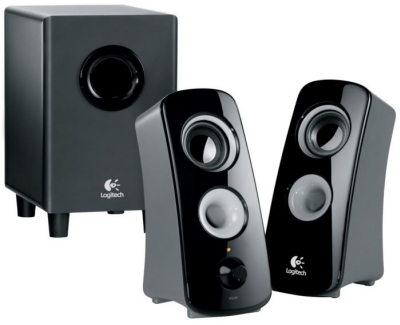 Genius SW-G2.1 1250 2.1 Speaker System
By just looking at the Genius SW-G2.1, you can quickly tell that it is made for gamers. The sleek black and red two-toned exterior carries a bit of meanness that fits that gaming mentality. With excellent overall audio quality, what stands out is its bass, which is not surprising as that would be one of the priorities gaming enthusiasts would be looking for when it comes to sound. Apart from the rich and full bass, what differentiates it apart among the best PC speakers under $100 is the separate control console. So instead of getting 3 components to this 2.1 channel speaker system, you get 4. Power, volume, bass level can all be toggled from the control console. It also has a mic and headphone jack if you don't want to bother other people and plug in your gaming headset and its mic. As you would expect, you also get a good amount of volume, often averaging around the 100 decibel level.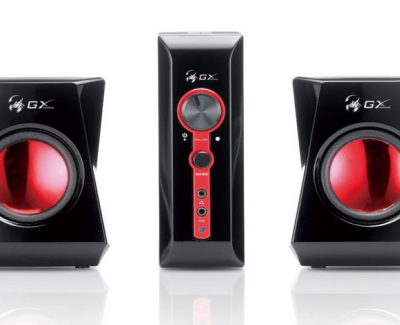 One of the few drawbacks that's easily noticeable is the subwoofer isn't protected with a grill. While is provides a purer, raw sound, it also leaves it open to dust, dirt and possible damage from getting hit. Placing it in a location where it won't get kicked or bumped is something worth noting.