Apart from keyboard, headsets and a gaming laptop, gaming mouse are essential tools for a gamer. And our list of best gaming mouse will surely be a delight for gaming enthusiasts.
Logitech G502 Proteus Core
While other mice are still around the 6,000 – 8,000 DPI range, the Logitech G502 Proteus Core took a leap forward with its 12,000 DPI sensor. While the 8,000 DPI of most gaming mice is more than enough today, the advent of 4K gaming meant that a time will come when higher DPI mice will be required to cover finer resolutions. In this sense, the Logitech G502 is the most future-proof choice in the market and our pick as the best gaming mouse on the list.
What's great about the G502 Proteus core though, is that in addition to its ridiculously high DPI, it also has a tunable sensor that can detect what surface you're gaming on and configure the mouse's sensitivity to better suit it. You're going to have to download the latest Logitech Gaming Software to make it work though, but once installed, you can use it to calibrate the sensor and tune it to whatever gaming surface you're playing on. I'll have to admit that it takes a bit of time to follow all the instructions to get this done, and the mouse can work without any calibration, but if the end result is a better functioning mouse. Why not?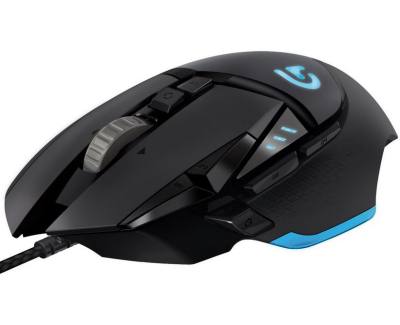 One other thing the G502 has going for it is its adjustable weight system. The weights are flat and are spread out around the middle of the mouse when installed. This gives the mouse a good balance whichever weight configuration you end up with, instead of being back heavy, like most typical weighted mice. The latch that opens the weight chamber also serves as a thumb rest, a very nice touch which is something we'd like to see more mice adopt. The only issue being the fact that flat weights are more difficult to pry out.
One thing we dislike about the G502 is the mouse wheel. Logitech offers two modes: regular stepped scrolling which provides better tactile feedback and free scrolling for those times you need to fly. The problem we have is that both modes feel a little too loose for comfort, making it hard to be precise.
Buttons on the other hand, are great. It has the second highest number of programmable buttons in our test and if that's what you need, the G502 will not disappoint. Placement is decent and the buttons are large enough that it would be hard to press wrongly. However, your thumb is going to get a hell of a workout with this mouse. The Logitech G502 Proteus Core is a great gaming mouse to have, and if you're already a fan of the G500, it certainly is a worthy upgrade.
Other gaming mouse that can be alternative to Proteus Core are:
Roccat Tyon
The Roccat Tyon, is hands down, the prettiest mouse in the list and looks don't come at the expense of comfort either. Despite its many buttons, the Tyon fits like a glove and tracks really well even on our laminated office desktop. Although it isn't customizable with weights like some of the entries here, it feels hefty enough that you won't accidentally chuck it across the room with a careless gesture.
Comfort is key when gaming and the Tyon's built-in thumb rest (similar to the one on the Logitech G502 Proteus Core) makes it a great mouse to use for extended periods of time. Button placement on the mouse does border on the ridiculous; especially the Dorsal Fin which we found to be a hassle to use. On the other hand, the X-celerator paddle is one of the best features in a mouse ever. It allows for the ability to minutely adjust button pressure, which makes precise actions a pleasure. It might not sound like much, but in action, it's a world of difference. Be it in a racing game like DiRT or to steady your sights in Sniper Elite 3, the X-celerator paddle can be used in pretty much any way you want and it'll excel in that capacity.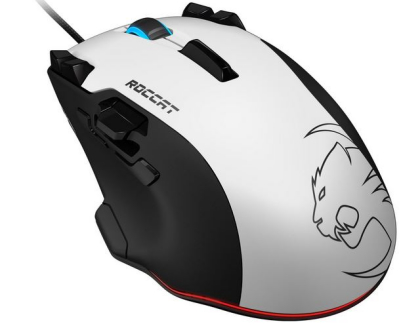 The DPI buttons perched on top of the left mouse button is actually a rather nifty feature, though they do need getting used to. I actually hit the Dorsal Fin multiple times (since most mice have DPI switches behind the wheel) before we remembered the DPI controls are on the side. The main gripe we have is the overall feel, which gets slippery and clammy like the ASUS Eagle Eye. Why manufacturers keep putting slick surfaces on premium mice is beyond me, but I'd take a rubberized grip any day.
Of course, if you are blessed with less sweaty palms, then the Roccat Tyon is truly a joy to use. It is great as a general purpose mouse, tracks well on almost all surfaces tested, and will satisfy even the most hardcore gamer with its barrage of buttons and customizability. We're not sure we know what to do with a mouse without an X-celerator button anymore after this.
Roccat Nyth
Roccat Nyth is far more suitable for the palm grip with its weighty design and chunky body. But wait! It's got a bit of a trick up its sleeve in the shape of incredibly simple, genuinely cool customization. Strong magnets on the side allow you to switch different pinky grips, which essentially change the whole feel of the device. There's more customization on the left side where the Nyth can hold up to a dozen buttons. That space can be altered to suit your needs, a dozen tiny buttons, double-length buttons, and blank spacers can be mixed and matched. They all feel nice and clicky and the software experience makes custom layouts easy to assign. This is the best implementation of an MMO mouse we've seen yet. Check out our Roccat Nyth Review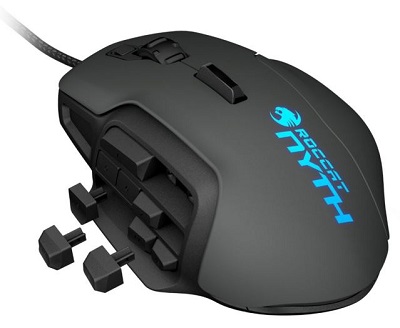 Roccat Kone XTD Optical
The Roccat Kone XTD Optical is a variation of the original, replacing the 8,200 DPI laser sensor with a 6,400 DPI optical one. It felt perfectly fine for lower sensitivity gaming, though the loss in DPI is felt at higher resolutions. However, there are advantages to having an optical sensor. Most hardcore and professional gamers prefer optical mice as they have 1:1 acceleration. Laser mice tracking can be less smooth with inconsistent acceleration, despite higher sensitivity settings. Barring this change, the Kone XTD Optical doesn't have much else difference from the original. It's similar to the Roccat Tyon in that it too has an Easy-Shift [+] button that can double the usable button functions of the mouse, though it has just 8 buttons (vs 16 on the Tyon).
The Kone's plastic matte material feels great and while the gunmetal gray color of the Kone XTD Optical is almost identical to the Gladius, it is a visually more appealing mouse. This is mainly due to two vertical plastic lines running through the length of the mouse, which has lights that slowly pulsate and change color. They even serve as indicators of when the Easy-Shift [+] button is pressed as they change to a light blue when the key is in use.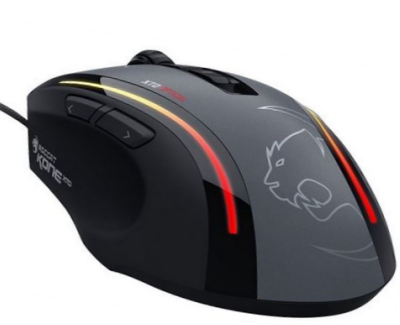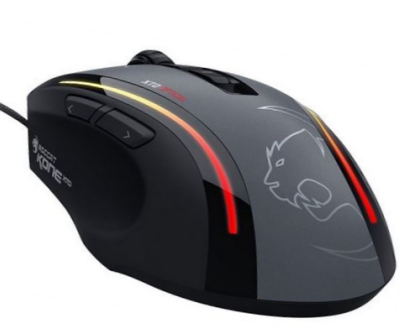 Unlike the Roccat Tyon, the Kone XTD Optical offers a weight management system. However, the pain-in-the-neck manner that it is designed isn't really appreciated. The Kone XTD Optical houses its weights underneath the mouse, with a latch you have to push and twist to open. The problem is that the plastic is too smooth that getting a grip to twist it open or close is troublesome. The mouse wheel can also be a bit problematic to gamers who prefer their wheels a bit more subdued. The wheel on the Kone XTD Optical protrudes from the body, making it steeper.
For those who naturally use a claw grip, it's not that much of a problem but it's a bit uncomfortable if you're a palm or fingertip gripper, which means more travel for your fingers to operate it. Those gripes aside, the Kone XTD Optical is eerily similar to how we felt about the Tyon. Both have minor issues but are otherwise excellent gaming mouse.
Cooler Master Xornet II
Where some gaming mice try to please all-comers, Cooler Master has gone directly for a niche. The Xornet II is aimed only at claw-grip gamers, and then only those wanting an optical mouse for their paws. To that end it's the absolute smallest mouse in the test, with the chassis running the length of your fingers, giving your palm absolutely nowhere to rest. This is a one-grip-only deal. But for that niche it fits pretty well, giving support for your right hand's ring finger and offering grips for your thumb and little finger to shift the mouse about.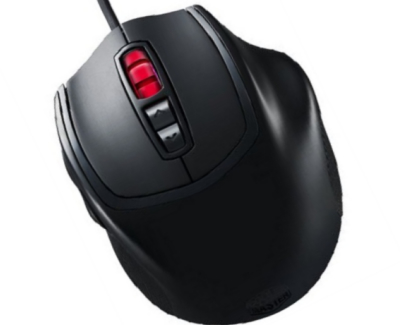 Given the low price it's no surprise that this is a basic mouse in terms of the feature set. There is, of course, the obligatory multicolored LED, offering 16.8m colors for your scroll wheel, which can have three different profile colors attached to indicate which of the configurable DPI settings you're on, but that's pretty much it. It is classic optical gaming mouse fare. On a decent gaming surface the movement translation is accurate, responsive and smooth, and when you're in the midst of a tense firefight you can trust it to be consistent. It's basic and claw-exclusive, though also insanely cheap for such a trustworthy gaming gadget its not enough to be the best gaming mouse. Check out our full Cooler Master Xornet II review