There are gaming-dedicated machines that deliver every beat of gaming prowess to the users. These kinds of machines possess the right hardware to conquer the needs of enthusiasts and deliver the right amount of excitement each time. But the thing is, it comes with a very steep price. Of course, that may be justifiable as it comes with all the good like backlit keyboard and all but what if you can enjoy the same performance and sacrifice some top-notch hardware specifications. Then this Dell Inspiron i7559-763BLK might just fit your needs.
Graphics specs and Screen
Most gamers look for a good GPU to start with so we should start looking at this area as well. This machine sports NVIDIA GeForce GTX 960M graphics unit coupled by a 4GB GDDR5 VRAM. Yes, this graphics is not very aggressive when it comes to all-out performance but it delivers the right goods for the casual gamers. It will fit most games running in full HD without hiccups. And yes, it will fall out in some areas, like when you plan to get serious with Assassin's Creed Unity. It will play it but on a lower setting, that is. As gaming can be very demanding for your eyes, it is a must that your machine keeps eyestrain at minimal.
IPS Display
When you think about performance many people mostly start to look for CPU and GPU aspects. But if you think about it, the screen is one important aspect if you wanted a pleasing experience. And thankfully Dell inspiron i7559-763BLK has an FHD IPS, Wide-Angle, Anti Glare Screen. It has a resolution of 1920×1080. This translates into great color accuracy. This screen offers crisp and clear images all over. Also, the brightness is great offering enough strength to counter bright external lights. Tested under average outdoor conditions, the screen still offers enough accuracy and clarity. And that matte coating greatly helps in limiting the reflections to minimum. But under direct sunlight, the overall visibility suffers to a point that you can barely see what's on the screen. Still, viewing angles are great with this screen. There's no visible color shift which is quite uncommon in this price range.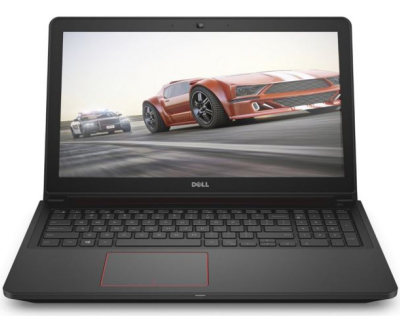 Storage and RAM
Ideally, when you play hard, a lot of files are needed to be stored and replaced while you're at it. This prompts the need for bigger RAM space. And fortunately for this machine, it comes with an 8 GB, DDR3L RAM which is actually more than enough for your gaming needs. It's fast enough and it can conquer your needs with flying colors. Storage wise, it's not really huge compared with today's standard. But, it is with 256 GB Solid-State Drive so you can have a zippy performance with a little noise as possible.
Once upon a time, HDD was the king of storage. Then here comes an innovation that uses electronic switching to store data. This approach has numerous advantages compared to conventional HDD. For one, solid-state drives have no moving parts. What that implies is a quite operation. Gone are the annoying buzzes you hear when the system writes or fetches data. Also, it means access speed is faster, even better than 10000 rpm HDD. With technology similar to the flash storage you find in USB memory devices, you can expect better security matched by a more stable operation compared to standard HDDs. The result? Your computer will behave better than when it has HDD. This makes boot times faster, software access better and your gaming experience best. Dell inspiron i7559-763BLK came with a 256GB SSD. Yes, this is quite smaller than what you expect, like having 1TB. But price is the main consideration here. 256GB SSD has similar price to 1 TB HDD thus the drop in storage space. But the thing is, this is a better technology with has a better write and read performance, one thing that matters most in a performance laptop. The bonus with this Inspiron is its extra mSATA slot. This means you can install an additional SSD when you need more space, not to mention cloud storage these days.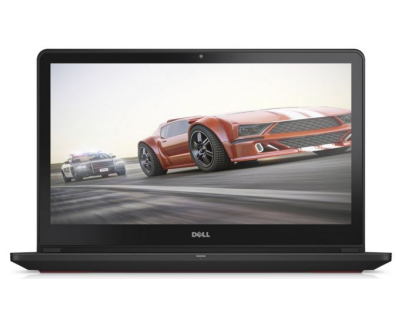 CPU and Heat Management
Dell Inspiron i7559-763BLK comes with Intel i5-6300HQ processor that runs at 2.3 GHz, Turbo tech bumps speed up to 3.2 GHz, with Quad-Core and sports a 6M Cache. It sums up to a very competitive machine that can deliver the best out of your gaming. But we all know that performance means power and power equates to heat. For that, machines such as this must have a good heat sink to divert heat. This one packs two thermal fans and three vents to keeps things in check. Also, it has 240 thermal fins which are efficient enough in controlling heat. This makes up a comfortable experience.
Power is nothing when faced with extreme heat. This is a common thing with performance machines. Power equates to heat and heat is not very friendly for both the machine and the user. The usual approach is to make use of a single fan with better sink that should be enough to dissipate the heat better. That should work, until new software offered better graphics. This prompted CPU and GPU to work harder. Yes, the load can be handled by the laptop but the resulting heat is another story altogether. To keep things under control Dell designed a system to eliminate heat from the inside of the system faster. It was through a thermal cooling design which features two cooling fans, three exhausts, large vents and those 240 thermal fins. These all worked together so you can still experience ultimate gaming with silky smooth performance even while handling intense tasks. Also, this same thermal cooling approach shields your palm from intense heat thus keeping it always cool.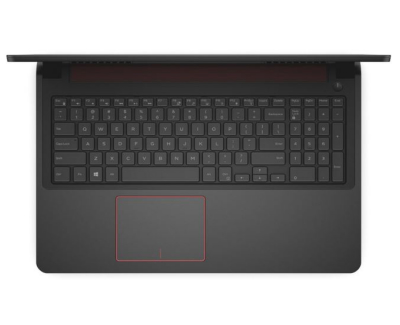 Maintenance
For most users, maintaining a laptop is a very tedious task. But after years of abuse, those shiny bits will start to fade and that gleaming performance will start to falter. One reason for this is a dirty cooling system. Over time those fans will not just suck in air but also a lot dust. Those dusts will start to build up making the cooling system incapable of handling the intense heat. This prompts the usual "blowing" through the vents. Although this can be done without opening the back panel, it surely does make the job easier. This Dell inspiron i7559-763BLK has an easy to remove back panel cover making minor maintenance chores a lot easier. This also paves the way for future upgrades like when you want to add storage space through its mSATA slot. A back panel that only requires a single screw to open will mean a breeze to handle. And after opening the back panel, this will show you how come this laptop does not have an optical drive: lack of space.
Further, wireless connectivity option comes in the form of 802.11ac + Bluetooth 4.0 with Dual Band (2.4 &5 GHz). The stereo speakers came with MaxxAudio Pro that makes the sound very much alive.  This laptop also has a backlit keyboard which is an important aspect for gamers. It has a 6-cell battery which, under average use, can achieve 10 hours of life through a single charge. Overall, this laptop is one tough bet in this price point.
Learn what others have to say about Dell inspiron i7559-763BLK