Commonly, laptops are used for productivity. But then as mobility and better internet connection was available, tablet PC came to rise. But what if you can have both? That's where a hybrid laptop easily fits the bill. This is the trend and if you happen to be looking for one, here are some of the best hybrid laptop choices these days.
Best Hybrid Laptops
Toshiba Satellite Radius 15
The Radius 15 is one of the best-looking laptops that Toshiba has produced in a long time, with subtle styling tweaks lifting the Japanese company's mid-range laptop firmly into premium territory. A grippy, backlit keyboard, a very sensitive touchpad and a bright, Full HD IPS touchscreen all combine to make the Radius 15 a terrific laptop for working on. A 1TB mechanical hard disk will easily eat up all of your biggest fi les, while three USB ports (including two USB 3), an HDMI port and an SD card reader keep the Satellite in line with its biggest rivals. Impressively, Toshiba has managed to set the speakers in such a way that sound radiates from both the top and the bottom of the chassis, meaning you get the same audio quality whatever position it's in. Sadly, that audio quality isn't particularly impressive to start with, and the process of actually hoisting the laptop into a position with the screen front-and-center is difficult because it weighs a hefty 2.3kg. The dual-core 2.2GHz Intel Core i55200U, coupled with 8GB of RAM, posted an overall score of 30 in our benchmarks. The battery lasted 5hrs 48mins in our test, which could get you through a full day if you switch on all the power-saving options and stick to only essential tasks such as light work.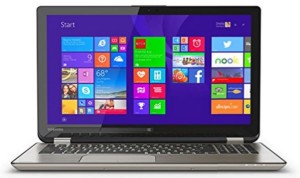 Microsoft Surface 3
Microsoft Surface Pro 3 is undoubtedly an amazing hybrid laptop from its hardware down to its software. It's refreshing to stumble on a hybrid laptop with unique features than the norm. For a lot people this could certainly replace their laptop. With 12 inch touchscreen display, core i5 processor, 4GB RAM and 128GB Storage Space you will get hook on this hybrid laptop. Though one of its downside is the keyboard is being sold separately, although this is a minor issue but for some it lessen the appeal of the surface 3.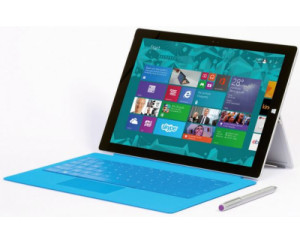 ASUS Transformer Book T100
Powering this hybrid PC is 1.33-GHz Intel Atom Z3740. It has 2GB amount of RAM in it as well. Intel HD Graphics powers its 10.1-inch display that has 1366×768 native resolution. It has 64 GB of storage which is average for its class. One advantage of this PC is that its light weight compared to other 10-inch tablets around. The keys offer excellent tactile feedback as well. Top that with a very long battery life and lower price and you got yourself a winner.

Dell Venue 11 Pro
With 1.4-GHz Intel Atom Z3770 processor in it, it is undoubtedly one of the fastest around.  It has 2GB of internal memory which is upgradable to 4GB. It comes with 64GB of SSD. Graphics is taken care by Intel Gen 7 which is projected through its 10.8-inch LCD panel. Elegant and sturdy design is couple with powerful performance in this package. The long battery life is commendable as well reaching up to 15 hours when connected to a dock, although the dock is not included in the package. Still, performance and design wise, it's worth every penny.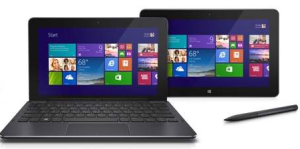 Lenovo IdeaPad Yoga 2
1.6GHz Intel Core i5-4200U is what keeps this system work. For a hybrid, it has a commendable 4,096MB DDR3 SDRAM. Further, it has 1,792MB shared VRAM powered by Intel HD Graphics 4400 resulting to an impressive 3,200×1,800-pixel resolution display. Storage is pegged at 128GB SSD. Windows 8.1 64-bit come preinstalled with it. With its price, this is good update from Lenovo.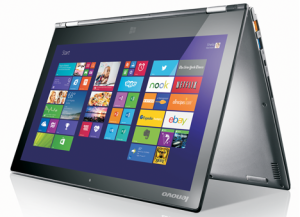 Microsoft Surface Pro 2
With its 1.6GHz Intel Core i5-4200U, it surely has enough power under its sleeve. Its 4GB DDR3 RAM makes the processing speed even faster. Graphics is with 1,792MB powered by Intel HD 4400 through its 10.6-inch screen which has a 1,920×1,080 resolution. Storage is enough at 64GB SSD. Although the dock still comes as an option, with its faster CPU, longer-battery-life version of the original model, this PC is a worthy upgrade.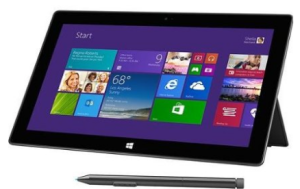 Samsung ATIV Smart PC Pro 700T
With its 1.7GHz Intel Core i5-3317U, it's among the fastest in its category.  It comes with 4GB, 1,600MHz DDR3 RAM which compliments the processor's speed. Intel HD4000 powers its graphics which is then projected to its 11.6 inches display. Overall, this hybrid is a powerful Core i5 tablet that has an excellent 1080p screen. To top it off, it comes with its own keyboard base which includes the pressure-sensitive S-Pen which is perfectly accurate and responsive as well definitely a worthy entry on our list of best hybrid laptops.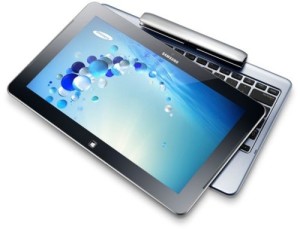 And our best hybrid laptop is…
Dell Inspiron 13 7000
With 5th generation Intel Core i5-5200U Processor (3M Cache, 2.2 GHz), this lightweight and sleek laptop is our choice for being the best hybrid laptop there is. Although there are other worthy candidate such as microsoft surface pro 3, we find dell's 13 7000 series to be the most capable laptop on the list. With 8GB DDR3 memory along with 500GB HHD, full hd display, touchscreen with stylus pen for drawing, laptop and tablet mode features, you will certainly love this laptop. It is so lightweight that you can carry this laptop with two fingers and it can easily be inserted in your backpack or bag just like any other things. If you are looking for the best hybrid laptop for your travel, business, studies and entertainment, then the Dell Inspiron 13 7000 is for you.