Heat is energy. This simple definition reminds every user that laptops will emit heat as it uses energy to operate. At such, numerous techniques have been introduced by manufactures to minimize discomfort associated with heat. One notable technique is exhaust fan system. This system eliminates heat by blowing it out of the system. But even together with heat insulation to mention, heat during operation is still prevalent. Then there comes laptop cooling pad to the rescue. This thing comes in numerous advantages when used properly. But then users tend to use the best there is. With that, here's a short list of best laptop cooling pad available in the market.
Xpad Laptop Desk
It's a huge chunk of plastic which resembles a typical cutting board for your kitchen. The "X" on top of it simply shows how it got its name from. Although it appeared very minimal in size, its effectiveness comes in different forms that make it a perfect addition for your laptop. For one it has anti-slip design which "glues" your laptop to the cooling pad. Thin and space friendly, it dissipates heat effectively through proper funneling of the heat. Although it does not have a fan to boot, it redirects the heat away from your body. It effectively shields away the heat through proper use of insulation techniques. Plus it's cheap and eco-friendly.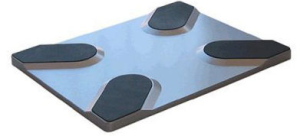 Cooler Master NotePal X-Slim Ultra-Slim
Thin is in, that's for a fact these days. Space saving is always considered. This is where cooler master X-Slim fits. It's 1.8-inch thick, you may never feel it's there. It's light weight and can fit laptop sizes from 7" to 17". It comes with a stand to change your viewing angle for better view of the screen. It has huge fan to dissipate heat yet offers quiet operation. It's powered through the USB so you don't have to deal with additional batteries. As it is thin, carrying it in a laptop bag can be a little problem.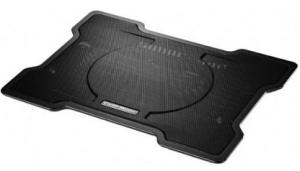 Cooler Master NotePal X3
Another Cool Master worth mentioning in the list. It has built-in adjustable fan speed which can be helpful when you do not need additional dissipation. It operates with a 200mm fan which is more than enough for casual users. It's thicker than other slim options as it comes in 2.8-inch. But as a result it can redirect more volume of air at one time. This is suitable for heavy users such as gamers. Good air ventilation means longer operational life for your laptop.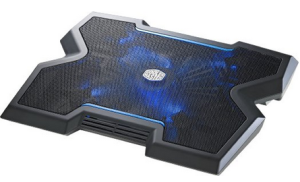 CM Storm SF-19 Gaming Laptop Cooling Pad
Gamers are among the heavy users there is. At such, laptops for gaming purposes do require huge fan capacity in order to cope with the heat levels. This is where Storm SF-19 can help. Built specifically for heavy users, it has two 140-mm turbine fans. This duo can dissipate heat in great speed and can handle continuous heat without problems. Another advantage from SF-19 is its wide-ranged adjustable height making it easier for you find the best viewing angle. It comes with additional 4 USB ports for better connectivity.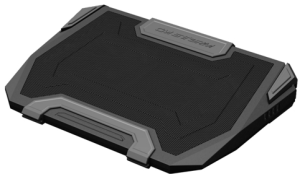 HAVIT HV-F2056 Laptop Cooler
If you are a gamer or working with programs that require high video demands, you will need a laptop cooling pad that can keep your laptop in a permanent constant temperature. This is where HAVIT HV-F2056 Laptop Cooler comes in. This cooling system has 3 fans with over 1100 RPM speed that can provide your laptop the ideal temperature it requires. Although it is strong and powerful, it is not noisy as compared to other laptop cooling pads. This cooling pad is definitely worthy of the title, best laptop cooling pad.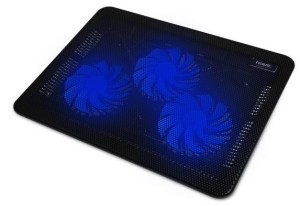 Lapgear Mydesk
Variety of colors, that's one interesting characteristic of this cooling pad. It's thinner than most cooling pads, it's 2 inches thick. The top is made of durable plastic which make it sturdy for heavier, larger laptops. It's comfy on your lap and it insulates heat away from your lap very effectively. It doesn't have any fan to dissipate heat which helps save power form your laptop. It's cool, funky and effective. A very efficient contender for the title of best laptop cooling pad.
Targus Space Saving Lap Chill Mat
Laptop cooling is vital, but it doesn't mean that you need to sacrifice comfort and space when it comes to laptop cooling pads. Targus made sure that you won't experience that. Targus Lap Chill Mat is built to flatten just over 1 inch tall. So no more bulky AC power or battery that takes out some space in your desk. You will be certain that your laptop is in optimal temperature, thanks to its dual fans and open edges that ensures proper airflow. It is so slim that it can easily fit into your bag or suitcase.