Mobile devices are getting slimmer and slimmer. With the trend set this way, more and more laptops are getting slimmer as well. To further enhance the slim profile market, manufacturers label it as ultrabook. In a nutshell, it is a slimmer version of a laptop which can run like and operate at the levels of cellphone through fast wake times and less mechanical parts. If you are in the market for this type of device, this list of best ultrabooks might help you out.
2015's Best Ultrabooks
Asus Zenbook UX305
The UX305 doesn't cost a bomb, but your mates won't know that. As well as being slimmer than the MacBook (it's just 12.3mm), it packs Intel's latest fanless processor and crams in two full-size USB 3.0 ports, along with an HDMI output for hooking it up to a monitor or TV. The 13-inch Full HD display's matte coating lets you see what you're doing outdoors – perfect for watching something in the garden – and the battery life of up to six hours means you won't have to keep going back into the house to charge it up. A fast 128GB SSD and comfortable keyboard add to the appeal.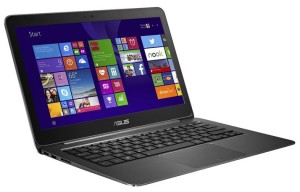 HP Spectre x360
Few laptops literally bend over backwards for you, but the Spectre x360 will. A rotating hinge enables the keyboard to flip 360 degrees, so the machine can be used as a tablet or placed upright for watching video hands-free. Thanks to the Intel Broadwell chip inside, the HP Spectre x360 boasts a competition-smashing 12.5-hour battery life and crisp 3D graphics, while its solid aluminum body is almost tank-like in durability. Backed up by 8GB of RAM, it'll let you edit images and chew through demanding tasks with ease – and what's more, you get all of this for a sensible price.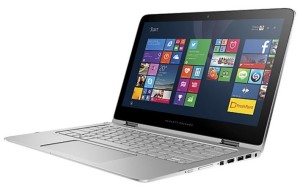 Lenovo Yoga Pro 3
The laptop equivalent of a fine wristwatch, the Yoga 3 Pro screams boardrooms, luxury cruise ships and complex scotch. Its sharp 13.3-inch touchscreen spins 360 degrees around a watchband-inspired hinge made up of 813 individual pieces of aluminum and steel. Thanks to its flexibility and lightness, the Yoga can be used as a laptop, tablet or upright display, and the ThinkPad-inspired keyboard is one of the best around. Lenovo's Harmony software, which optimizes settings depending on how you use it over time, means it'll adapt to you.

Lenovo ThinkPad X1 Carbon
This PC is packed with 2 – 3.2GHz Intel Core i7-4600U processor which is very capable of handling modern software. It comes with 8GB of RAM which is really more than what is necessary these days, this makes multitasking a breeze as well. For its storage needs, as with recent ultrabook standards, it comes with SSD (Solid State Drive) with 256GB amount of space. It comes with 14-inch display driven by Intel HD Graphics 4000 resulting to a 2560 x 1600 native resolution that delivers brilliant and vivid images. Windows 8.1 Pro comes pre-installed.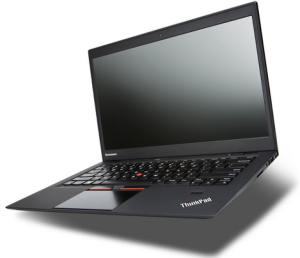 HP ENVY 13-2150nr Spectre XT

Powered by Dual-Core Intel Core i5-4200U Haswell processor, HP Envy 13-2150nr Spectre has enough power under the hood. It has 4GB of RAM which may be low for some folks but is well capable nonetheless. Still, this system is upgradable to 8GB system memory. Storage needs is on today's average of 128GB SSD. 13.3 LD display is driven by Intel HD Graphics 4400 which results to sharp images overall. Windows 8.1 OS comes with it as well.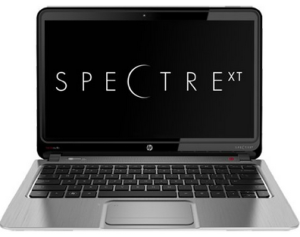 Dell XPS 13
4th Generation Intel Core i5-4200U powers this PC. And from this point of view, it has enough power to face any challenge. 4GB RAM comes installed although it is upgradable to 8GB. It has 128GB SSD worth of storage space. 13.3-inch FHD display, which packs 1920 x 1080-pixel resolution, is powered by Intel HD Graphics 4400. With commendable levels of speakers that can fill a room, it is one of its best qualities. Windows 8 comes pre-installed. Overall, this is a good mobile performer.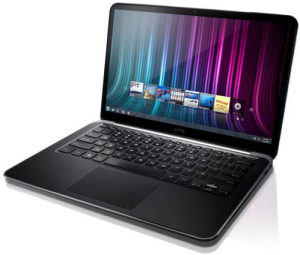 Lenovo IdeaPad U430 Touch
Its power comes from Intel Core i7-4500U. 4GB of RAM may not sound much but for an average daily grind, it can do the job pretty easily without problems. This is one of those rare instances where hybrid SATA hybrid is employed to an ultrabook. That may sound negative for some people but with its 500GB storage, I think it is quite an effective approach. Display is pegged at 14 inches which is powered by Intel HD Graphics 4400. Sleek design and good performance, it's never a wrong decision really.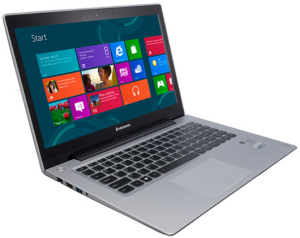 ASUS Zenbook UX301
The last entry on our list of best ultrabooks is ASUS Zenbook UX301. This system packs a lot of muscle underneath its slim profile. It boasts 2.8-GHz Intel Core i7-4558U processor. It has 8GB worth of memory space in it. Dual 128GB takes care of its storage needs. The bright 13.3 powered by Intel HD Graphics 5100 is a commendable performer as well. Plus, the LCD display is layered with Gorilla scratch-resistant glass for added protection. Although it commands higher price, if weighed it against its fast overall performance, above-average battery life and fast boot and transfer times, it's all worth it.