Dell's new 13.3-inch laptop/tablet hybrid wants you to have it all. It can function as a well-featured ultra portable notebook (including a similar MacBook-like silver color scheme, although rather than aluminum this one is plastic) and just flip the screen around, and you'll have a sizable business tablet, which includes stylus for tasks where you would rather use touch screen feature.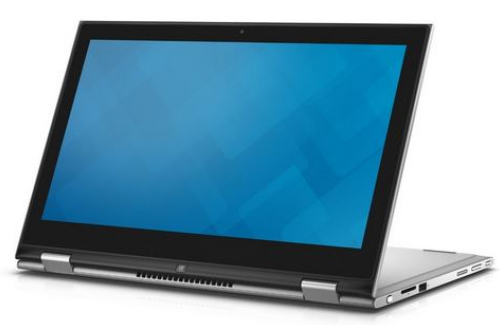 Performance
This hybrid laptop/tablet also packs speedy parts inside: It includes a 2.4GHz 5th Generation Intel Core i7-5500U CPU, 500GB HDD and 8GB of memory. This will handle day-to-day tasks with so much ease, and can even handle a little photo and video editing on the side. It's only when you are playing power-hungry games where you'll notice any slowness. The Intel HD Graphics 5500 chip can't really handle anything more than casual play. Battery life is just about average lasting only for about 4 hours when doing a web browsing.
Design
Dell Inspiron 13 7000 Series is somehow a bigger 2-in-1 than we often see in the market, having a 1080p 13.3-inch display surrounded by medium- to large-sized bezels, which all add to the overall footprint, the bezel just below the screen measures a good 3.5cm, for instance. Still, it's actually portable at 1.6kg, and the charger is also compact which is easily be manage to fit in on a laptop bag or case. That said, we wouldn't want to have to hold this 2-in-1 one-handed while in tablet mode for more than a minute or two.
The overall design of this hybrid laptop is good though, such as the straightforward and elegant hinge mechanism that means switching from laptop to tablet modes is smooth and stable, and the back lit chiclet keyboard and large trackpad are both top-notch, which resembles what you will get with Apple's MacBooks. Also, the glossy soft-touch plastic finished on the chassis makes for a classy feel in the hand.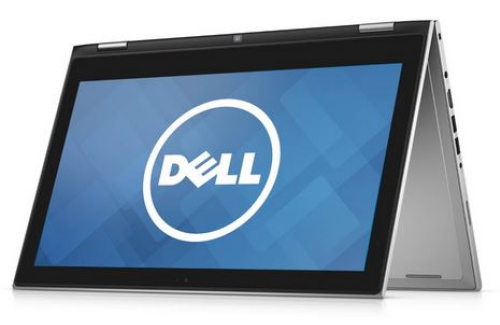 Features
Sadly, the included stylus mentioned before is a bit underwhelming as compared to the fine-tipped stylus on Microsoft's Surfaces, this one has a nib about the size of a matchstick head which is rubbery. While it gets the job done, it's not quite as precise or stable to write with, although it can at least be safely stashed inside on the right-side slot of the Inspiron. It also comes stocked with three USB ports (two 3.0), a full-sized HDMI out, SD card reader and a 3.5mm headset socket. With the Core i7 processor, Dell had to equip this one with an exhaust fan in the back behind the keyboard, which turns out to be quite while on operation. The price is quite reasonable too, and if you can't stretch to this high-end model, there's a more affordable entry-level alternative for this one; you'll have to put up with a lower resolution screen and an Intel core i5 processor at that price point though.
Verdict
With all the above mentioned features, Dell Inspiron 13 7000 is a very attractive 2-in-1 hybrid and while it could be more room for improvements, it gets a lot more right than it does wrong. A good-value hybrid offering at a very fair price.