Logitech G15 Keyboard Review
Control is a very important aspect of gaming. As many folks would tell, control does have a huge role in making or breaking a game. As many people would speculate, keyboard does have a lot of things to tell when you wanted to have overall control over your game. One of the best keyboards for gamers out there is Logitech G15. And for what reasons?! Here are some points you may wanted to know.

To start with, controls must have a set of dedicated keys for specific functions. Fortunately, Logitech G15 has enough with its six programmable keys which could represent your own set of shortcuts. This in turn can lessen your time spent on looking for those specific macros. All you have to do is press a key and you're good to go.
For those who wanted to enjoy gaming even when the darkness bites, this keyboard features backlit keys which make typing an easy task in the absence of light. Although the orange glow may not be for the liking of some, it does the job well in providing a good level of visibility for your keys. This makes errors less of a worry in return. And it even comes with adjustable level of brightness to boot.
The Logitech G15 keyboard itself comes with high quality which is a plus when you are concentrating on winning. The keys are easily pressed. It has a quite operation which is a good thing. Although some keys are smaller than usual, like the tab button, it will work just fine and is just a matter of getting-used-to.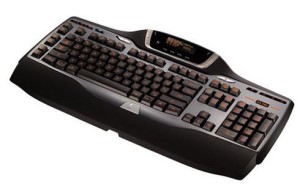 Another vanity with this keyboard is its High-visibility GamePanel™ LCD. It can display game stats among important things so you are well informed about your next strategy. It as well displays controls like when you are turning down the volume. Of course when you play with games in full-screen mode and at the same time with your IM, this display will inform you that you have a PM on the other side. This may seem a little too much from such a small display but it's a good addition when you wanted to be well-informed all-around.
Some things are lacking like dedicated volume knob but then you can have that from your macros if you really need it. And there are features you may want to have like dedicated one-touch controls for media playback. This can make your life easier. It has a detachable palm rest when you need it and can be kept away when you wish to. It has channels underneath which are designed to route cords form your mouse and other peripherals to keep the mess at bay.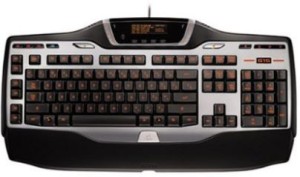 To sum it up, Logitech G15 is small, stylish, it comes with useful functionalities, and it's a good partner in conquering the gaming scene.
Although gaming keyboards are a bit pricey as compared to your standard keyboard, its contribution to your gaming is without a doubt a great factor in making your gaming experience a truly enjoying one.