Among the known brands in the laptop category is Toshiba.  This brand is among the top choices for laptop buyers for the reason of high level reliability and system integrity. Price wise, Toshiba does offer reasonable specification for their laptops without sacrificing prices. Here's some of the latest toshiba laptops that might interest your liking.
Toshiba KIRAbook 13 17s 
Powered by Intel Core i7-3517UM 2.0 GHz which is capable of up to 3.1 GHz with 4 MB Cache, this system does have enough punch. Together with its 8 GB DDR3 RAM, this system can do multitasking in a breeze. For added mobility, 256 GB Solid-State Drive takes care of the storage. The display is pegged at 13.3-Inch powered by Mobile Intel HD graphics. Windows 8 Pro comes with it as standard. The Kirabook represents Toshiba's technology pinnacle so it is backed with 2 years warranty from defects. It lacks optical drive but with battery enough for 6.16 hours, mobility is never compromised.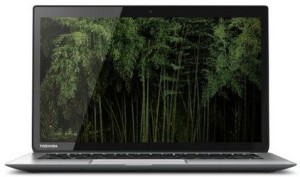 Toshiba Satellite C55T-A5370
This unit is driven by Intel Core i3-3110M clocked at 2.4 GHz so you don't have to worry about sluggish operation. This system is located at the lower spectrum, at least in today's standard, with 4 GB DIMM. But even with that, it is still over the minimum requirement for windows 8 which comes pre-installed. 500 GB, 5400 rpm hard drive takes care of the storage. No SSD here but with this price range, this is worth the look. Display is well equipped with 15.6-Inch touch sensitive screen powered by Mobile Intel HD Graphics. With 4-hour battery life, this is a capable entry level mobile companion.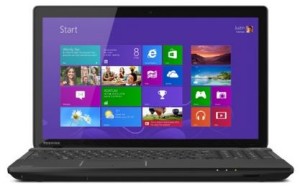 Toshiba Satellite C855D-S5950
This is a quite rare, AMD system. This laptop is designed for casual user and it delivers. The system is powered by AMD E-300 1.3GHz with 1MB L2 cache processor. Though it may sound very minimal, the power comes pretty decent although not intended for heavy users.  Genuine Windows® 8 operating system comes with it. 15.6″ widescreen LED Backlit screen with maximum resolution of 1366×768 caters the display. RAM is at 4GB DDR3, enough for its system. 500GB hard drive is enough for storage. Also, DVD-SuperMulti drive, HD Webcam, 3-USB 2.0 is a welcome feature in this price range.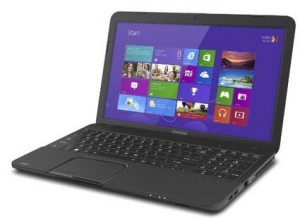 Toshiba L55-A5284 
For those that do want the best for their budget and performance requirement, this system will fit perfectly. Targeted for office multitasking works, this system is powered by Intel® CoreTM i5-3337U processor. Decent display prowess is catered by Mobile Intel® HD Graphics though 15.6″ diagonal display. 8GB DDR3 worth of RAM is more than enough for tough day's works so you'll always be ahead of the deadline. 750GB 5400RPM hard drive keeps everything in check so you'll have enough space for everything. Windows 8 comes pre-installed from the factory.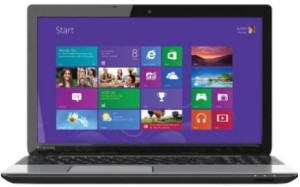 Toshiba Satellite S55-A5256NR
Intel Core i7-4700MQ 2.4 GHz caters the nitty-gritty stuff under the hood. Coupled with 8 GB DIMM RAM, you can expect multitasking at its best. And because more is often better, storage is catered 1 TB 5400 rpm hard drive, more than enough for your daily grind. 15.6-Inch display is powered by Mobile Intel HD graphics so you can expect decent overall performance from this system. As with modern PC, Windows 8 comes factory installed. Top that with Ice Blue brushed aluminum casing and thin profile and you got the ultimate looker.