Any way you look at it, Venom BlackBook 17 is certainly a hardcore gaming laptop. If you want a laptop that doesn't budge on anything that you throw at it, then this beast is certainly the one you're looking for. But one minor issue is that you can't carry it around due to its weight (3.36kg + 850 for the charger), if you insist on taking it with you, you might find your back aching.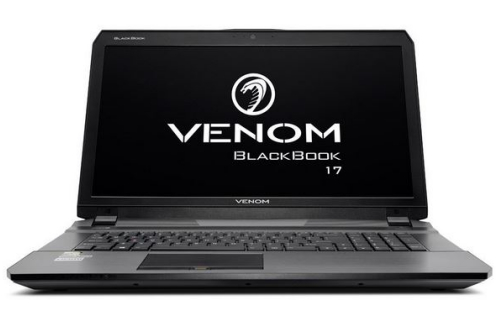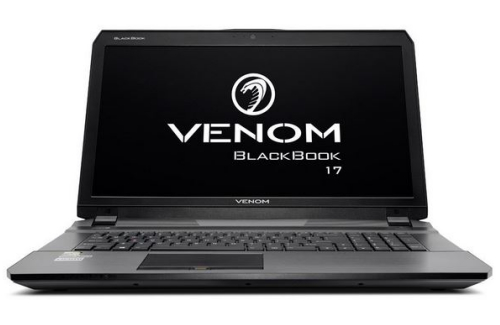 Features
By power, that means a GeForce GTX 980M graphics chip combined with a blazing-fast Samsung XP941 M.2 SSD and 16GB of low-latency memory plus a quad-core Core i7 processor. There's a secondary 1TB Hitachi hard drive for more general storage, and basically a full-sized keyboard with a big friendly trackpad containing a fingerprint reader. What you won't find are the 'frills' included with some other gaming laptops: the keyboard backlight only comes in white, there's no Killer networking card and it doesn't have flames painted up the sides. Ultimately, that doesn't affect performance, and the Venom BlackBook 17 has that in spades.
Display
Having a good screen is important for any laptop, but that's especially the case with a screen this big. Although it's only 1080p resolution, that still provides plenty of detail and, what's more, it doesn't throw up any of the Windows interface scaling problems that higher-res displays can cause. Better yet, it got excellent contrast and deep natural colors, so even in dark, moody games and movies you can see a pleasing amount of shadow detail.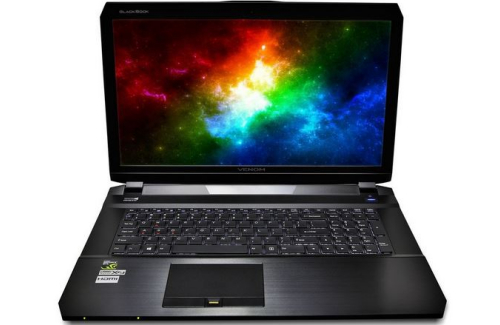 Performance
Venom BlackBook 17 is not just great on hardware, pre-installed applications such as browsers like Firefox, Chrome and a handful of benchmarks — and a full year's subscription to Norton Internet Security. It's not just games that run well on this hardware either: the OS as a whole is zippy, even when you're doing mundane tasks. It's also worth pointing out that, while this BlackBook may not be as sleek as the Gigabyte, it arguably has a more responsible design. Its CPU and GPU top out at much healthier temps and it doesn't sound like a "leaf blower" when doing so. Like any gaming laptop, there is fan noise, but it's not too high-pitched and doesn't rev up and down all the time. Ultimately, that should result in not just longer life for the CPU and GPU, but all the surrounding components (which will suffer under prolonged exposure to high temperatures) as well. The trade-off for all the power under the BlackBook's hood is that battery life is very ordinary, it lasted around 2 hours for web surfing and just 1.5 hours for more-demanding, mixed-use multitasking. Top-shelf tech doesn't come cheap either, so if you want this kind of performance in a portable package, you'll need to accept the fact that it comes with a fairly expensive "worthy price tag.
Design
While it's undeniably a huge laptop, it still manages to chuck some style into the mix, and with some of its 17-inch competitors pushing 4kg, it's perhaps not quite the beast it could have been. The dark black, brushed-metal finish on the lid and the angled edges do have a slightly slimming effect and this is, overall, a rather discrete machine, but one that hides a lot of power…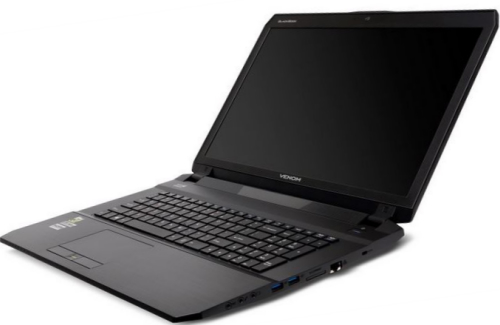 Conclusion
If you want a gaming laptop that will give you more than enough power to play your favorite games on medium to max settings, then Venom BlackBook 17  is worth buying for.